Pet Sitter Spotlight: Nancee Marin of An Artful Dogger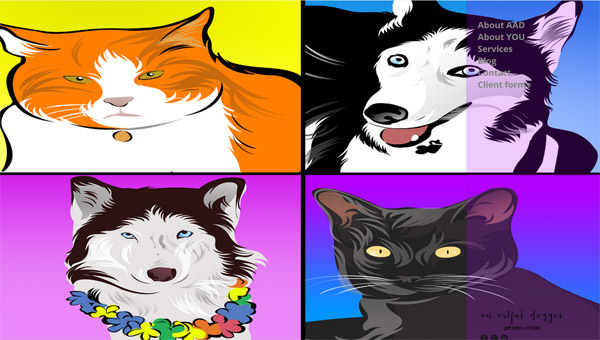 This is Day 8 of our 15 Professional Pet Sitter Spotlight Series.
I'm not sure I've met any professional pet sitter who can say "I wanted to be a pet sitter when I grew up!"
This means, we have all entered this glorious profession leaving behind another career (or two).
That works out extremely well, and in the favor of all parties involved. This allows the professional to have life experience and a wide variety of outside skills and training that could easily be useful in our day-to-day business.
Today's spotlight is no exception. Say hello to Nancee Marin of An Artful Dogger serving the surrounding areas of San Bernardino County, California.
As a self-proclaimed "Lover. Artist. Musician. Writer. Linguist. Thinker. Sit-down comedienne. Foodie. Cheap chic fashionista. Mad Renaissance woman.", Nancee is one unique and extraordinary pet care provider.
Here is her story.

True Life: The Professional Pet Sitter

"Any kid can do it."
"You don't need to go to college for that stuff."
"Oh, you get to play with pets all day. It must be easy!"
I hear those all the time.
But it's not all fun and games. Pet sitting is a lot like a box of chocolates. You'll never know what you're going to get. Some jobs are a walk in the park and some are pretty hardcore.
More often than not, wearing different hats is a fashion requirement in the industry. You're not just a pet sitter.
You often end up using skills from various disciplines to perform the job. And luckily, as a Renaissance personality/multipotentialite/polymath (in other words, a person with many interests), I am up to the task.
Sure, pet sitting does have its perks. Sure, I get to snuggle all night or all day with those cuties and try to steal each other's covers and bed space, which can be both fun and problematic at the same time. 😉 They like to lie on top of me.
So you can see that I can lose sleep pretty often in a cramped-up arrangement, but at the same time I get a lot of love, warmth, and comfort from a dog pile! Quite often I end up being a "hot dog sandwich"—I'm right smack in the middle of two big Doodles, my favorite regulars, who end up being attached at my hip.
They usually get depressed when they sense that their "parents" are leaving, so "Mom" (who calls me a good surrogate mom to them) and "Dad" always find it remarkable and hilarious that they perk up as soon as I arrive, and they know it when I'm close to their driveway, even when I'm still several feet away from it.
They somehow smell or sense my presence from afar. They like to dart towards me, running around excitedly, and wait for me until I get out of the car, and then they fetch some teddy bears for me.
They're always in "suspenseful" anticipation whenever their parents tell them days in advance that I am coming to stay with them. They do get sad when they're locked in the house and see me across the street, not being able to reach me! Thanks to them, I was inspired to pursue pet care as one of my career paths.
As a Renaissance soul, to me, careers are just like Lay's potato chips—no one can have just one! 🙂 (I suppose the same applies to owning pets as well!)
Unlike his more gregarious "sister" Bella the Goldendooodle, Billy the Labradoodle is friendly, but normally standoffish with people, especially on the first time of meeting, and he was also like that with me.
He'd turn and walk away—until the third day of my stay with him. He sat next to me on a Saturday afternoon while I was web surfing. Ever since, he's been by my side most of the time, no matter what I do—eating, sleeping, and yes, sometimes bathroom time, too. He even likes to escort me to my car whenever I go back home.
He's one of the most faithful of all the pooches that I've met. He's really protective and fond of me. I even like to say that ALL MEN should be DOGS—like him! 🙂
I also had the honor of sitting three cats, all rescues. Probably one of the easiest jobs: feed, clean up litter box, and hang out. Repeat cycle. One of the kitties, Annie, was quite a doozy.
Her mom told me that she preferred to keep to herself, so I respected her space during the meet-and-greet by not paying too much attention to her.
Then the delightfully unexpected happened on the first daily visit.
Supposedly the most standoffish and skittish of them all, she almost immediately warmed up to me. She was hamming it up with kneading sessions and belly rubs in the throes of feline pleasure. Nine lives in seventh heaven? 🙂
For a particular overnight assignment, I had to stay up for an average of 12 hours EVERY DAY for a menagerie of six dogs of various breeds (separated in two packs due to aggression issues among themselves) and 12 fish tanks.
Yes, you've read that right. Since all the dogs were rescues (some were previously abandoned and abused and some were seniors, one of whom has age-related health problems), they had special needs—medications for anxiety, extra TLC, plus home-cooked meals for the eldest of the bunch and, yes, for the fish, too!
There were also the usual additional household duties. Let's just say that their (human) parents are very grateful that I've taken on the job because no one else would do it! They actually hope that I'll stick around and the massive amount of responsibility won't make me bail out on the next sits! (Of course, I still continue to work with them!)
There are some occupational hazards involved, from minor ones to not-so-minor. Take pet oopsies, for instance. If you can't stomach the triple P (poop, pee, and puke!) on a regular basis, then I don't think you're quite cut out for the job.
Once I found the master bedroom carpet splattered with runny doo-doo all over. (Billy had new food. His stomach was trying to get used to it, so it was quite tender.) Thankfully I had my secret weapon (concentrated non-toxic green cleaning products) to easily handle the bowel "crime scene" and all was well.
I've certainly had a few scares during overnight stays. There were occasions where I accidentally locked myself out in the backyard. Fortunately the doggy door was open, so little old me simply squeezed through the opening and all was well.
At another instance, I was locked out in the front yard. Thankfully I had already made the habit of carrying a small pouch with my phone and keys stashed in it everywhere I went.
And oh, let's not forget getting stung by a wasp when I was taking out the trash. (Yes, this happened at the same place I had my 12-hour-a-day sit.) Fortunately, I brought a bottle of tea tree oil and all was well again.
My knowledge of natural health and wellness came in handy, quite literally, in the above situation and the poop splatter incident, and after my experience with the aforementioned huge menagerie assignment (as well as other ongoing personal life situations happening at the same time that still need to be resolved), I felt especially led to take up Reiki, a holistic healing modality that promotes balance in mind, body, and spirit.
After experiencing improvement in my health as a result, I wanted to extend the same benefits to my furry charges and living creatures in general. This may sound woo-woo (no, not the kind of noise that my Husky girls like to make!), but I believe there is no coincidence.
Interestingly, the mom of those same rescue dogs somehow picked up my vibes and randomly asked me if I started my studies in holistic health. The funny thing is that I had NEVER told her anything about it at all!
I didn't even hint at it on my social media posts and I doubt that she's the typical online junkie. As she obviously expressed her openness to try anything that would help calm her household, she was really intrigued and asked me to keep her posted on the progress of my studies.
I decided to test-drive animal Reiki with pretty pleasing results. For some of them, it has taken them some time to get used to it (and sometimes I wonder if it really kicks in!), but once they do, they become quite receptive to it. The rescue dog packs seemed to be considerably calmer and happier, bringing much-needed peace in the household.
(Practitioners have often observed that rescues love Reiki, being well aware that they need balancing.)
The Doodles, who'd normally follow me and get pretty bummed out at my departure, were seemingly almost oblivious to the fact that I had already closed the garage door, standing outside, ready to drive back home.
On my last evening of holiday overnight stay, they hopped in bed with me and started to fall asleep just before I left. I thought it would help them relax even more if I gave them a short treatment.
They ended up lying in bed the whole time after I got up and walked away. But I honestly didn't see this coming. It turned out better than I thought. 🙂
Let's not forget that pet sitters also have to deal with a common mishap: alarm and door lock snafu. The former sets off unintentionally or it doesn't work properly. The latter sometimes just gets jammed for some reason. No happy-happy-joy-joy moment for me.
It was an unnecessary quasi-drama. Near-endless phone calls from the alarm company and cops rushing in needlessly while the dogs freaked out over the ruckus. (Fortunately, the alarm is now finally well-functioning—after several hours of repair.) I've also recently had a problem opening the door of that same house.
It took several tweaks and turns before I was able to open the top lock of the front door. There were previously no issues with opening the door.
Here's yet another occupational hazard: I also almost tripped a couple of times while dog walking. Others haven't been so lucky. Some pet sitters had to witness accidents and deaths while caring for pets, and not to mention getting seriously injured themselves trying to break up dog fights or being attacked by random dogs!
Heaven forbid something like any of those happens to me. But if push comes to shove, I now have another tool in the box for pet emergency situations. I've recently completed a PetTech course, by far the most comprehensive training in pet safety that includes CPR, first aid, and snout-to-tail assessment.
Pet parents may be pleased to know that I offer the assessment (plus Reiki) as a complimentary part of my extended stay package, as well as live music.
Yes, as a musician, I've also done some "serenading" to help them get into their chill-out state. I can attest to the fact that animals are drawn to music and that many musicians have animal magnetism thing going on.
They're huge pet lovers. They have plenty of tall tale tails to tell, but that's another story for another day! 🙂
Over To You
Read More: See all others from our 15 Professional Pet Sitter Spotlight Series.
We all come from a wide variety of backgrounds. What was the career you left behind to pursue a career in the pet care industry? What life lessons have you learned from that past experience?