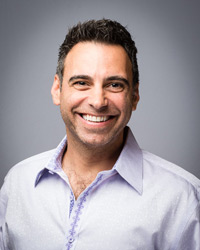 Josh Cary has an engaging and energetic speaking style that will entertain and enlighten your audience from the start.
His presentations are interactive, and his energy and passion are infectious. (See video clip below.)
He lives and breathes web design, business growth strategy and SEO, and he loves helping business owners achieve their own success.
Josh takes the technical and makes it accessible.
Josh is the founder of PetSittingOlogy (PSO), a digital marketing agency, specializing in creating effective websites that rank well in Google and inspire visitors to take action.
He found this calling while spending 15 years in the entertainment industry living in New York as an actor and filmmaker. When not auditioning or performing, he built websites for small businesses, and in 2008 designed his own successful website for his pet sitting business.
In 2009, Josh formed PSO to help other pet businesses create their own dynamic online presence, with a strong focus on search engine optimization (SEO) and Google rankings.
Clip: 4 Essential Elements of an Effective Website
Filmed at NAPPS (National Association of Professional Pet Sitters) Conference in Orlando, Florida
Josh's presentation is a great introduction to the basic elements of Search Engine Optimization (SEO). In this easy-to-understand (and even easier to implement) presentation, Josh begins with a full outline of why Google ranks certain websites higher than others in search result pages.
He then outlines four specific website elements that you can adjust – today – that will have a positive impact on your SEO and allow more visitors to interact with your brand.
He outlines in simple language specific and tangible adjustments you can make to your website today for greater Google visibility and increased visitor engagement.
Clip: Josh Cary's Opening Presentation at Conference #PSO2016
Filmed at PetSittingLive's 5th Annual Event in Las Vegas, NV
"We must connect with people. It is scary. But that's where the magic happens!" —Josh Cary
In his opening remarks at the 5th Annual Pet Care Conference in Las Vegas, Josh Cary acknowledges the truth about living in a world where we long for social interaction and connection, and the utter fear that often prevents us from doing so.
How do you overcome this obstacle? It all begins with a look inward. If you are ready, willing, and able to take personal inventory and accountability and begin to focus on yourself for the benefit of your business, industry, and life, this video is for YOU!
Presentation Slides
Contact Us About Your Event