Mike Michalowicz, Author of Profit First (video interview)
PetSittingology's own, Josh Cary, is proud to host author, entrepreneur and positive thinker, Mike Michalowicz to the show. You'll quickly see why Mike is always quick to champion entrepreneurs.
Focusing on life lessons that make the power of positive thinking in entrepreneurship so important for any successful business, Mike discusses the lessons in his best selling book; Profit First.
Press Play and Watch
Looking forward to the
next episode
in this series? Tune in Tuesday, May 1st at 1pm EST to hear Josh interview
Dr. Marty Becker
, our #PSO2018 Keynote Speaker and America's Favorite Veterinarian!
Register FREE for the digital series today!
Our Guest: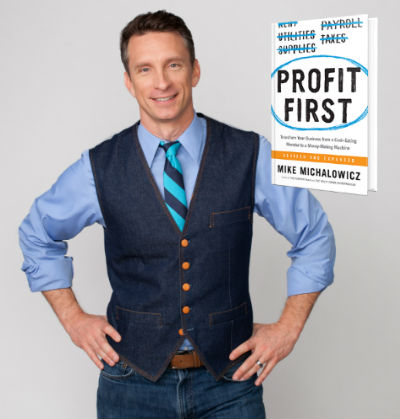 Mike Michalowicz is a speaker, entrepreneur and author who made a name for himself as a college grad when he founded and sold two multi-million-dollar businesses.
Hungry for further success, Mike spent the next few years trying to replicate this formula for profit and eventually experienced a humbling life lesson.
Now, Mike lives life as an author and positive thought influencer with a passion for guiding small business owners towards successful financial habits. As the author of Profit First, he focuses on simple steps to organize finances of a business to encourage smart spending.
Mike is a regular columnist for The Wall Street Journal, American Express's "Open Forum" series, and pronounces his fabulously Polish name "mic-CAL-o-witz".
Show Quotes:
"97% of the world are employees, only 3% of the world are entrepreneurs" – Most people will not take the initiative to step up and become their own boss. Entrepreneurs are some of the hardest-working, courageous, most driven people who often don't get paid in hopes of creating a business. Entrepreneurs are the underdogs.
"I wanted to be Gordon Gecko when I grew up" – In college, Mike wanted to be a character from the 1987 film Wall Street who was known for being driven, successful, and kind of a jerk. Following this path ultimately led to a life lesson of humility and positive thinking after starting several business ventures that eventually failed. After coming to his family and telling them all their money was gone, his 9-year-old daughter offered her piggy bank. Mike credits this as the most powerful moment of his life, as it was the perfect example of selflessness.
"We need to amplify how we naturally are" – Mike comments how his personality is infused and amplified in every aspect of his business. Your brand needs to be fully yourself, authentically and unabashedly. People will identify with you more easily if they can see themselves in your brand and they will be more willing to accept your lessons.
"Put life back in business" – Mike's business motto address the trend of changing your business offerings if the customer is not buying. This trend ignores the entrepreneur in the business, making them change their business to one which might make them unhappy. Instead, Mike advocates changing customer needs to align with what your business offers.
"The books offer lessens I need to fix in myself or have tried to fix in myself" – not just a lesson to others, Mike writes lessons in his books that he feels he needs to learn. Learning the process of positive thinking in his business and personal life is an ongoing process.
"I look over to someone, not up to them" – When Josh remarks that Mike is someone he looks up to as an example, Mike comments that it is more that he is looking over at him. All people share in the human experience and can offer advice and expertise in different fields. It is important to show each other the positive aspects of each other's lives because we are all in it together.
"The draw of the familiar is greater than the draw of the new" – Taken in a business context, the way people are familiar in doing business, even if it has been unsuccessful, will be the way they continue to do it. People need to get angry and resentful of their current normal way in order to reject it completely. Only then will business owners find success in new practices that will make them more financially secure.
"The more time we are given to do something, the more time we will take to complete it" – Citing Parkinson's Law, Mike says that his book's system of breaking income to your business into separate accounts based on use breaks the system of using however much money we have. Instead of deposits coming in and being spent in the same day, taking increments based off of need first will give owner's a better idea of how much money they have to work with.
Show Links:
Buy Mike's book; Profit First, on Amazon or any major book store.
Visit Mike's official website http://www.mikemichalowicz.com/
Watch Mike's Ted Talk
#PSO2018 Conference: Pet Sitting LIVE
Over to You
What is your favorite part of the show?  What one things stands out and resonates the most?  Share with us in the comments!