Success and Leadership Lessons from a Chef That Every Pet Professional Should Follow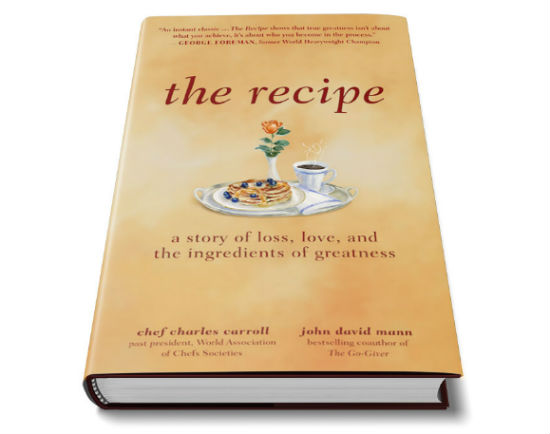 On this page you'll find two video interviews that I held recently.  One with an Olympic gold medla winning Chef, and one with the co-author of an absolute favorite book of mine, The Go-Giver.
Chef Charles Carroll and John David Mann are the authors of a brand new book that I had the great fortune to read before its official launch.  The Recipe comes out on October 17 and is available right now on Amazon.
About the Book (with the videos to follow)
"Always be hungry, Owen," the Chef said softly. "Don't ever let life just wash over you. Savor it—every smell, every taste, every sound. If you want to be a great chef, it's not enough just to love the food. You can't cook great food if you don't love life. That's Rule One, Owen: Taste everything."
Owen Devon used to have a pretty good life. At least until a few months ago, when disaster struck his family. Now his grades are plummeting and he can't seem to stop getting into fights. To make matters worse, he's just been tagged for vandalism—and to repay the damage, he's being put to work for the crusty old owner of the local diner.
But there's a lot about the old man that Owen doesn't know—and in this diner's cramped little kitchen, he's going to learn a lot more than how to cook an excellent meal. . . .
From international award-winning Chef Charles Carroll and New York Times bestselling author John David Mann comes a tale of heartbreak and redemption, the story of a boy who learns to overcome tragedy and carve out a life of excellence and honor through cooking lessons at the hands of a retired chef. Blending poignant story-telling with vivid culinary detail, The Recipe offers readers a compelling recipe for personal greatness.
Chef's Rules of the Kitchen
1) Taste everything.
2) Improve every dish you touch.
3) Pay attention to the little things.
4) Compose your space.
5) Build your team.
6) Commit to excellence.
7) Cook with honor.
Chef's Rules for Living
1) Savor every moment.
2) Make the world a better place with everything you do.
3) Pay attention: how you do anything is how you do everything.
4) Compose your life: put your effort into controlling the sail, not the wind.
5) Build the people around you.
6) Reject mediocrity: never compromise your standard.
7) Live with honor: treat every person with respect, and never forget who you're serving.
Throughout the book, the reader also learns key cooking concepts, cutting techniques, and other practical secrets of the kitchen. Includes a complete set of recipes for all dishes cooked by the characters in the story.
My Interview with Chef Charles Carroll
Book site TheIngredientsofGreatness.com
Charles Carroll ChefCharlesCarroll.com
My guest today has a unique perspective on success, greatness, and what it  takes to create world-class teams. Chef Charles Carroll took his first Culinary Olympics gold medal at age 24 and has participated in eight different Olympics over three decades.
As executive chef at one of the highest-rated  country clubs in the nation, he manages and mentors a team of seventy- five, in six kitchens and three restaurants, putting out eighty to a hundred  banquet functions per week — and maintains an unshakable sense of  team morale and family spirit in the process.
He travels the country giving  inspirational talks to young people on the Ingredients of Greatness. He just returned from  logging a quarter million miles in his two-year stint as president of the World Association of  Chefs Societies. And in his spare time, he's written a book — a "culinary parable," he calls it —  with The Go-Giver coauthor John David Mann. How does he do it all? And more importantly, why does he do it? We'll find out today.
My Interview with John David Mann
Book site TheIngredientsofGreatness.com
John Mann JohnDavidMann.com
What's it like to get inside the head of an Olympic gold medalist? To know what he knows, and turn that knowledge and experience into a powerful story that unlocks the secrets of genuine greatness … at the same time that it pulls us in and touches our hearts?
That's the unique gift of storyteller and New York Times bestselling author John David Mann. John has coauthored two dozen books, including seven New York Times and national bestsellers. His books have been published in thirty languages and have sold more than 2 million copies.
He is best known for his award-winning parable, THE GO- GIVER, co-written with business thought leader Bob Burg. His latest, coming this fall, is the culinary coming-of-age novel he co-wrote with Chef Charles Carroll, THE RECIPE: A Story of Loss, Love, and the Ingredients of Greatness.
Full Length Bio: Chef Charles Carroll
Award winning author of Leadership Lessons From A Chef: Finding Time To Be Great and Tasting Success "Your Guide to Becoming a Professional Chef," Chef Carroll is currently the Executive Chef of River Oaks Country Club, in Houston Texas. River Oaks Country Club enjoys the reputation of being rated the number four Country Club in the United States. The Club has 1700 members and 75 culinary team members.
Chef Carroll was Executive Chef at Oak Hill Country Club from 1996-2000. Oak Hill Country Club is rated the number seventeenth Country Club in the United States and is home of the Ryder Cup, U.S. Amateur, U.S. Open, U.S. Senior Open, and PGA Championship.
Before Oak Hill, Chef Carroll was Executive Chef, and employed at The Balsams Grand Resort Hotel for thirteen years. The Balsams is a four-star four-diamond resort located in Dixville Notch, New Hampshire.
He also served as Apprenticeship Coordinator for one of the country's leading apprenticeship programs. Charles is a 1985 graduate of the Culinary Institute of America. He served as a Coach for the 2008 United States Culinary Olympic National Team, his seventh Olympic Team. Other teams have included 2004 Manager of the United States Regional Team which captured third in the world and the best in the world Category B, Team USA 2000 national team which received 4 gold and one silver in the world Culinary Olympics held in Germany, ACF New England Olympic Team in 1988, which won more gold than any other regional team; Team USA Northeast 1992, which placed number two in the world; Team USA National 1993, Basel Switzerland, which placed third in the world; and was Manager of Team USA National Apprentice Team, which placed number two in the Taste of Canada Competition.
Charles has received over ninety national and international awards, including chapter Chef of the Year in 1988, 2005 and the American Culinary Federation President's Medallion four times from four decades (1989, 1999, 2005 and 2014). He received the Central Regional "Good Taste Award" in 2006 and Sharing Culinary Traditions Award from the American Academy of Chefs as well as the regional and national winner of the Chef's professionalism Award in 2008. He has been nominated twice for ACF regional Chef of the Year. In 1993, Charles was selected by The James Beard Foundation as one of the Great Country Inn Chefs and was awarded Educator of the Year by the ACFEI. Since the year 2000, he has been inducted into the World Master Chefs Association (2000), the American Academy of Chefs (2001), the Confrerie de la Chaine des Rotisseurs (2002), and the Honorable order of the Golden Toque (2005).
As a professional speaker, he has been a guest at hundreds of events to include ACF meetings, regional and national conventions, as well as culinary classes, colleges and universities, and multiple private and public businesses and corporations.
Chef Carroll served on many Boards and Committees to include; President to the Board of Trusties of the LeNotre Culinary Institute, Secretary Treasurer of the Les Amis d' Escoffier Society Houston. appointed chairman of ACF certification appeals committee (2008) and appointed chairman of the World Association of Chef's Society (WACS) world congress held in the year of 2012 in Daejeon, Korea and Norway 2014. In 2015 he was inducted as an honorary member into the Indian Federation of Chefs Association (IFCA), The Chefs Association in Argentina and The Northern Chefs Clubs of Greece. In 2014, Chef Carroll was named Vice President of World Association of Chefs Society, an organization that encompasses over 10 million chefs and 100 countries, then in 2015, Chef Carroll was named President and served in that position for 2 years. He currently sits on the Worldchefs Board as Past President.
Chef Carroll has also had the pleasure of being honored at several colleges and universities. He is the recipient of the Distinguished Visiting Author Award presented to him by Johnson and Wales University, as well as Distinguished Visiting Chef by Sullivan College and honored by Grand Rapids Community College, New England Culinary Institute and Paul Smiths College; and received the Lifetime Achievement Award by Cordon d' Or and the Crystal Icon Award by the International Special Events Society. He was most recently awarded with the title of Ambassador for the Culinary Institute of America (CIA).
One of Chef Carroll's most proud moments was creating and producing "Operation HOT" (Honoring Our Troops) in 2011, and again in 2013. Chef Carroll put together a team of 21 celebrities and support team, raised $450,000, assembled 30,000 lbs of show gear, produced a total of 8 shows, 2 of which were Vegas Style, and fed 8,000 troops a home cooked meal in the middle of a war zone in Afghanistan. For his collective efforts in organizing these events, Chef Carroll was recognized by 5 past U.S. Presidents, and invited to the White House. In September of 2013 he was presented with The Honorable Order of Saint Martin Award, given to him by the Army for his significant contributions to soldiers based in the Middle East.
Chef Carroll takes pride in mentoring students due to which he has written the award winning "Leadership Lessons from a Chef, Finding Time to be Great" and "Tasting Success, Your Guide to Becoming a Professional Chef". His 3rd book, "The Recipe" is soon to hit shelves on October 17th, 2017.
Chef Carroll has spent the past three years traveling around the United States and the world to include Ireland, Norway, Germany, Switzerland, Iceland, Portugal, Turkey, Chile, Korea, Paris, South Africa, Afghanistan, Greece, India, Hong Kong, Malaysia, Singapore, Macao, and Canada mentoring, sharing and presenting his messages to culinary students, chefs, industry professionals and executives as well as the United States military personnel. His influence and inspiration has helped thousands of individuals reach their full potential and strive to be the best they can be.
For more information about Chef Charles Carroll, please visit http://www.chefcharlescarroll.com
Full Length Bio John David Mann
JOHN DAVID MANN has been creating careers since he was a teenager. At age 17, he and a group of friends started their own high school in Orange, New Jersey, called Changes, Inc. where he went on to teach. Before turning to business and journalism, he forged a career as a concert cellist and prize-winning composer. At 15 he was recipient of the BMI Awards to Student Composers (at the time, their youngest award recipient ever). His musical compositions were performed throughout the U.S. and his musical score for the play Prometheus Bound (written at age 13) was performed at the amphitheater in northern Greece where the play was originally premiered over 2,000 years ago.
John's diverse career has made him a thought leader in several different industries. In 1986 he founded and wrote for Solstice, a journal on health, nutrition and environmental issues. His series on the climate crisis (yes, he was writing about this back in the eighties) was selected for national reprint in the Utne Reader.
In 1992 John produced the underground bestseller The Greatest Networker in the World, by John Milton Fogg, which became the defining book in its industry and sold over 1 million copies in eight languages. During the 1990s, John built a multimillion-dollar sales organization of over 100,000 people, and cofounded and served as editor in chief of three business journals.
John is an award-winning author whose writings have earned the Nautilus Award (A Deadly Misunderstanding), the Axiom Business Book Award Gold Medal (The Go-Giver), Taiwan's Golden Book Award for Innovation (You Call the Shots), and the 2017 Living Now Book Award's "Evergreen Medal," awarded to his beloved parable The Go-Giver for its "contributions to positive global change." He is author or coauthor of more than two dozen books, which are published in thirty languages and have sold more than 2 million copies.
In addition to coauthoring The Go-Giver series with Bob Burg, he is also coauthor of the New York Times bestsellers The Red Circle (with Brandon Webb) and Flash Foresight (with Daniel Burrus), and the national bestsellers Among Heroes (with Brandon Webb), The Slight Edge (with Jeff Olson) and Real Leadership (with John Addison). His Take the Lead (with Betsy Myers) was named Best Leadership Book of 2011 by Tom Peters and the Washington Post. He is married to Ana Gabriel Mann and considers himself the luckiest mann in the world.