Case Study: Jill & Jay Pattiz, Pampered Pet Sitting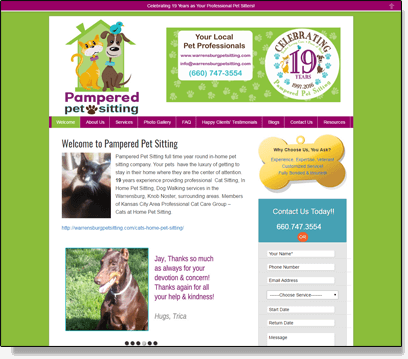 Overview
Jay Pattiz has been a pet sitting business owner for 18 years, and his Pampered Pet Sitting has become a fixture of the pet community in Warrensburg, MO.
Why Did Jay First Turn to PetSittingOlogy?
Jay attended a PetSittingOlogy conference and immediately felt like part of a nice, supportive welcoming community. He loved the atmosphere and support shown by the participants and staff, and he especially enjoyed his new membership in the "For Clients Only" private Facebook group.
"Probably the main contributing factor that won me over was when I attended the 2014 PetSittingOlogy conference. I am an old school conservative guy and it's difficult to get me to change, but within the first few hours of the conference, I quickly saw how great it is was to be part of your group." -Jay Pattiz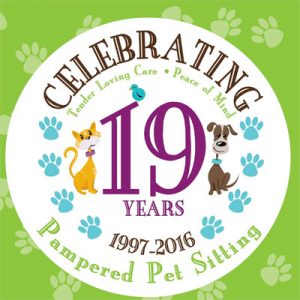 Taking The Next Steps
As his business expanded, Jay realized he needed to keep his website current. The site was getting so many spam-related contact submissions that he and his staff were spending valuable time wading through them instead of working with their wonderful furry clients.
Jay knew that for Pampered Pet Sitting to be ranked highly in Google search results, he had to update the site frequently and continually provide new content. While Jay's staff were ready to provide the updates and changes, their web designer was not. Their wait for the site to be updated became lengthy, and the fees associated with those changes added up. The site became too much for his business to manage on their own. At which point, Jay remembered PetSittingOlogy and Josh Cary.
"There are numerous benefits of having a PSO website, perhaps even too many to list at this time! The main ones are being part of your closed Facebook group, attending and/or replaying terrific webinars that I have learned SO MUCH from, and having a website I am proud to showcase to others!"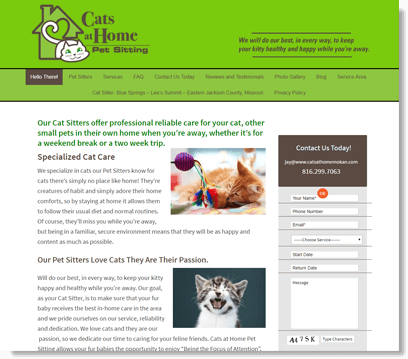 Jay had such great success and a wonderful experience with his original website through PetSittingOlogy that he chose us to build and support his newest "Cats Only" site! http://www.catsathomemokan.com/
Working Together with Jay Pattiz as a Wonderful Partnership
What PSO Did to Help Jay and His Company Grow
PetSittingOlogy worked with Jay and his team to create a site that was easy to edit and SEO friendly so it would rank well in search results. The site needed a clear, user-friendly interface because Jay wanted his team to edit it themselves and not involve a designer.
Because PSO sites are based on the WordPress platform, this request was right in line with our standard practice. Jay is now well-versed in maintaining his site, and because PSO provides ongoing support via webinars, blog and Facebook posts, Jay and his team are able to not only continue to service the site, but they can make adjustments in line with current best practices for website design.
Did PSO's Effort Pay Off?
Through their partnership with PetSittingOlogy, Pampered Pet Sitting has met their goals for their site and their business. Their first goal was to have an SEO-friendly website, and because their site now comes up first in searches for pet sitting in his local area, they've met this goal.
Their second goal was to cut down the cost of maintenance of the site. Because Jay and his staff now perform all site maintenance, they no longer employ a web designer, which indeed lowers the overall cost of their site.
Pampered Pet Sitting's third goal was to have an effective site that retains current clients while attracting new ones.
"Our results have been awesome, and could have been even more incredible if we wished to expand our business… With our new site, we were able to re-attract 12-14 clients who had not used us in years. Year-to-date we've been able to increase profits 45% while doing 1% FEWER pet sits! "PetSittingOlogy's knowledge of the industry has allowed us to increase our prices, increase our margins, and decrease our costs." -Jay Pattiz
Case Study: Millicent Little of Furry Footsteps Pet Sitting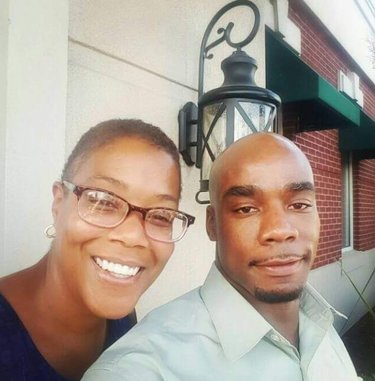 Millicent Little (pictured left), owner of Furry Footsteps Pet Sitting.
My website has went from page 6 of Google to page one! 100% of my clients state that they were drawn to my website because it was so professionally designed and user friendly.
What do you like most about your PetSittingOlogy website?
I like the fact that I have complete control of my website content. I can update my website at any time with fast, helpful technical support when I need it. This is important to me because new client feedback input lets me know that my personality/character is what connects with potential clients. My personal touch is what makes the difference with my website design and content!
What are you getting from your PetSittingOlogy website that you didn't
get from your previous web designer or hosting firm?
With my PetSittingOlogy website, I receive FAST (within 6-8 hours) technical support with my website. I receive detailed feedback/instructions that I can use not only in that moment, but in the future. The support is that detailed…it's pretty much a very user friendly tutorial! I can go in 24/7 and edit my website at any time. No waiting for my former provider to become available to make changes…and even then, changes were open to THEIR interpretation, not mine!
My last site was also not SEO optimized…I was on the eighth page of Google consistently. When I brought this to my former web designer/host, they had no idea what SEO sites and Google Analytics were…and expressed no desire to learn. My previous website also did not have blogging capability, which has also GREATLY improved my web presence with my PetsittingOlogy website.
Has your site been performing successfully? In what ways?
Since my PetSittingOlogy website has been live, 90% of new client requests are from web searches. I survey my new clients religiously, and over the past six months, my website has went from page 6 of Google to page one! 100% of my clients state that they were drawn to my website because it was so professionally designed and user friendly. They also love my color scheme and picture! Current clients regularly visit and share my blog postings to friends and family.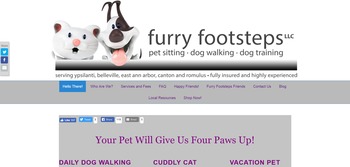 What do you like most about working with PetSittingOlogy as a whole?
I love the fact that you do not just get an excellent SEO ready website and spectacular technical support… you also join a family of like-minded individuals! The Facebook support group is phenomenal…I have connected with so many pet sitting professionals internationally and learn so much from them!
In addition, Josh Cary provides a plethora of additional resources for the pet sitting professional that is determined to be the best in the strong areas. There is no end to the knowledge, wisdom and connections he provides from his vast pool of experience and resources!
When recommending PetSittingOlogy to friends, what is the first thing
you tell them?
I let friends know that PetSittingOlogy is not only easy, but fun to learn! The PetSittingOlogy community is an open-minded, resourceful, professional group of folks all with the same mindset… to be successful while providing professional, high quality pet care to our clients!
Case Study: Tara Stout of Beloved Pet Nanny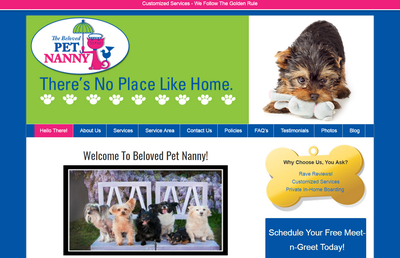 What were things like before finding PetSittingOlogy?
Before I found PSO I was just floundering with a large national website company that claimed to be the best on TV. I was found by a couple of great pet sitting clients that did help launch my business with great reviews. I don't know how they found my website because I could hardly find it myself.
The large website company kept talking me into spending more money through advertising. I spent hundreds of dollars on ads and it was never enough. I just couldn't afford it anymore.
In the beginning… and Beyond.
I finally found PSO and could hear the passion in Josh Cary and his desire to be helpful, and that was just the tip of the iceberg!
PSO is a God send in so many ways and it's unbelievable and simply astounding to me that even after two years the entire group of us bend over backwards to help each other. I feel like my website is stunning and the best in this area. Words are not enough to explain how helpful everyone is. There is not any other way that I can think of that PSO could be more helpful, and if there is I know that Josh will make sure that it's done. If you need something done, it is taken care of ASAP.
I'm glad I did have the experience with the large website company to truly appreciate PSO and how awesome they all are. This is the best place to be for pet sitting.
Sincerely, Tara Stout Beloved Pet Nanny