Pet Sitter Spotlight: Cindy Vet of Pet Buddy Pet Sitting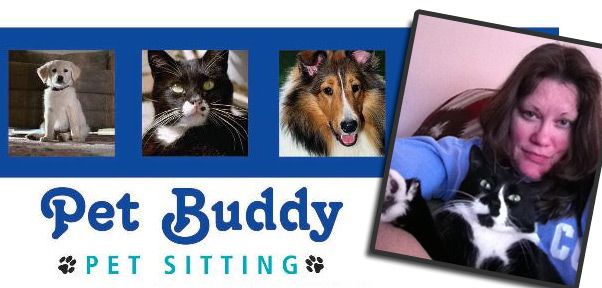 This is Day 9 of our 15-part spotlight series on Professional Pet Sitters!.
So much of what we experience as professional pet sitters is often a double edged sword.
We put our entire heart into caring for each furry client and sadly, the worse part of this career is often dealing with the inevitable; that moment you must say goodbye to a dear friend.
It's never easy. And there is no way around it.
The best a professional can do is handle it with respect, love, and grace.
Today's spotlight is the very text book definition on how to be there for the human client when it's time to allow the furry client to peacefully pass on to Rainbow Bridge.
This is the story of pet sitter Cindy Vet of Pet Buddy Pet Sitting in Decatur, GA.

The Good and The Sad

As you know, most of my furry kids I pet sit for are special needs kids.
I have one client who lives up the street from me.
I've done middays regularly for her for over 10 years. Her dog Jackson was lost to Cancer several years ago.
I helped her with extra visits and care when Jackie was in his final few months here with us. She consulted me regularly about how he was really doing.
Anyone whose lost a pet knows that letting go is extremely hard.
I've always believed that part of being a responsible pet owner is learning to let them go when it's time for them, not for us.
That's at best, a judgment call.
Dealing primarily with special needs pets, I have on my website, as part of my mission statement, that I provide quality pet care for responsible pet owners.
The last few months, my client has been dealing with Smokey, Jacksons brother, being diagnosed with cancer as well. The personal growth that she has made over the last few years is both inspiring and heartbreaking.
Having lost Jackie, she better understands now what Cancer is like for a dog. Her and I have had very frank discussions.
She has made me promise that I will let her know if I think she's not seeing when Smokey is telling her it's time.
My heartbreaks for them both. But to know that she has that kind of trust in me as a pet sitter, as a care giver for her pet is humbling.
She is placing her trust in me to be Smokeys advocate if she can not do it herself.
That's so beyond anything I ever thought I would experience in this "job" I do every day. And yet, it's exactly why I do what I do… and why even on the hardest of days…
I always love what I do!
When a client asks you to be with their pet in their final moments because the client can not do so peacefully…..
…when they ask you to gently let them know when they are not seeing what their pet is trying so hard to tell them….
…when they ask you to spread their ashes or pick out an urn…
That's both the hardest moments of my life as a pet sitter…
But the biggest blessing I could ever have bestowed upon me as well!
Over to You
Read More: Check out the other stories in our 15-part spotlight series on Professional Pet Sitters!.
What do you think is the hardest part of our industry? What's the most difficult part about being a professional pet sitter?
Tell us in the comments below.