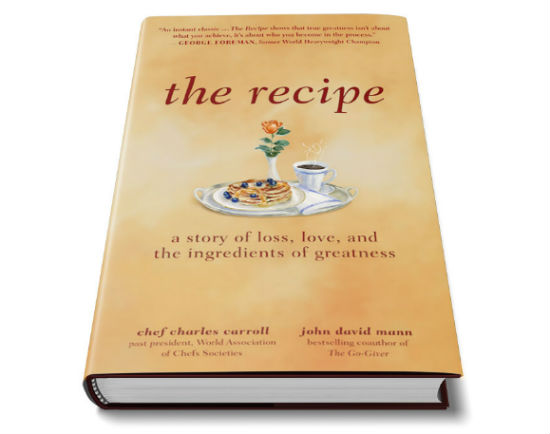 On this page you'll find two video interviews that I held recently.  One with an Olympic gold medla winning Chef, and one with the co-author of an absolute favorite book of mine, The Go-Giver.
Chef Charles Carroll and John David Mann are the authors of a brand new book that I had the great fortune to read before its official launch.  The Recipe comes out on October 17 and is available right now on Amazon.
About the Book (with the videos to follow)
"Always be hungry, Owen," the Chef said softly. "Don't ever let life just wash over you. Savor it—every smell, every taste, every sound. If you want to be a great chef, it's not enough just to love the food. You can't cook great food if you don't love life. That's Rule One, Owen: Taste everything."
Owen Devon used to have a pretty good life. At least until a few months ago, when disaster struck his family. Now his grades are plummeting and he can't seem to stop getting into fights. To make matters worse, he's just been tagged for vandalism—and to repay the damage, he's being put to work for the crusty old owner of the local diner.
But there's a lot about the old man that Owen doesn't know—and in this diner's cramped little kitchen, he's going to learn a lot more than how to cook an excellent meal. . . .