R.I.P. Willy – Best Beagle Ever.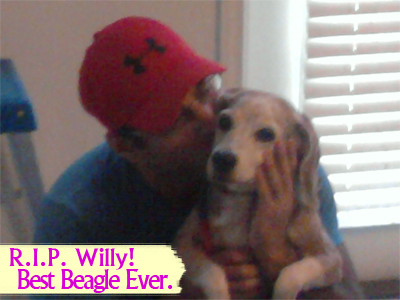 On Saturday, December 10, 2011, Willy the Beagle crossed over Rainbow Bridge and returned to play in Heaven. He was 14 years young and remained comfortable, happy and loved until the very end.
I owe my relationship with Willy to the pet sitting industry.
Willy entered my life as a pet sitting client while living in New York City. Alitia and I watched and cared for Willy on multiple occasions when his owner would travel for business.
One day, that business travel extended a bit further. We received a call from Willy's owner asking if we knew anyone who could adopt Willy since business was transferring him out of the Country.
After a brief conversation together, we agreed Willy would be a welcome addition to our other two dogs.

Welcome Willy!
I quickly fell in love with Willy and his unique personality.
Some would refer to Willy as eccentric, quirky, odd, or just plain weird, and couldn't relate to or understand him. But not me. I was all for his wonderful quirks.
Willy spent a few years with us in New York, then made the 1800-mile cross country road trip with us to San Antonio, Texas, and it was here he was able to experience green grass for the first time.
He used our fenced in back yard as his personal play pen. He would bask in the warm sun, discover new smells and even chase the occasional rabbit.
It wasn't too long before I found out that Willy does not bark. He howls. On most of his journeys in the back yard, he would apparently be on the trail of some game animal.
He would alert us inside with his beautiful howl that he has (as we interpreted it) 'found a duck! I found a duck! OMG! I found a duck!'
We were even treated one time to a half-eaten bird that Willy graciously delivered back to us inside.
That's a dog being a dog.
Wonderful Willy
Over time, the bond between Willy and me grew stronger. We had our morning routine down. We would keep each other company in the kitchen while I prepared my morning breakfast and coffee.
Then as I made my way upstairs to my home office, Willy would follow and relax on the love seat that simply became his. I loved looking up from my desk and knowing Willy was there as my perfect business partner in crime.
I made a promise to Willy before he passed that he will never be forgotten. I thanked him for his amazing companionship, and hand fed him some waffles and bacon.
I imagine Willy is now howling up a storm, playing with all the ducks and rabbits in harmony, before calling it a day and retreating to his favorite love seat.
Here's to the best beagle ever.
(View All his Photos in my Google Photo Album here – opens in new window.)