What Happens Now That Thanksgiving Has Past?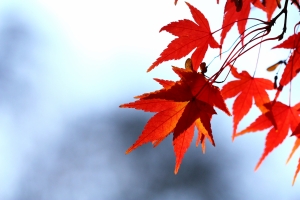 Don't you agree that this is one of the most exciting times of the year?
Having spent a few years in San Antonio where it rarely falls below 60 degrees this time of year, I am now back on the East coast, able to enjoy and experience one of my favorite seasons: Autumn.
The leaves change color. Fireplace smoke is in the air. And Holiday music is upon us.
Although, oddly enough, it did reach over 60 degrees a few days this weekend here in New Jersey.
Now that Thanksgiving is behind us, it's time to look forward and focus on the upcoming holiday.
As pet sitters (and therefor small business owners), we have the opportunity to land new clients, service current clients, and have one of our best months all year.
Want to see something I rarely show anybody?
Alitia and I, with the help, of course, from our team of pet sitters, brought in a total of $22,308.50 in pet sitting services during the very first December we were in business with Alitia's Animals.

Granted, we worked practically 24 hours a day to keep things going, but the hard work surely paid off.
Here is a screenshot of our Dec. 2008 bank statement – Click for full size.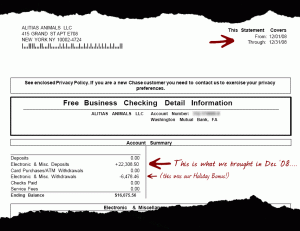 So, How Did We Do It?
First of all, let me just say that I understand if you are a solo pet sitter, or even have just a few pet sitters on your team, it might be difficult to reach that figure during one month.
What I am saying, however, is that no matter where you currently are in your pet sitting business, there is ALWAYS opportunity to increase your client-base and grow as big as you wish.
So, what's the secret to growing month after month?
The bottom line is that we simply knew we had to position ourselves in the most professional way possible.
You'd be surprised how often potential clients will jump at the chance to hire you simply because you APPEAR to be the most professional, most reliable, most trustworthy, and most capable – even before they ever make contact with you.
We understood early on that our website had to be professional. Our emails and phone conversations had to be professional. Every interaction from first phone call to Welcome Home email had to be professional.
(Notice SEO – search engine optimization – or landing in the search engines was not mentioned. Too many pet sitters only focus on landing in Google and disregard the important elements once a visitor finds your site!)
Improving Your First Impression
I talk plenty about how to optimize your web pages and how best to land in Google. That's not what this note is about.
In order to gain more clients, you must make the best impression possible once they arrive on your website.
And what's often the first thing about your website that a visitor sees?
That's right, your logo.
Your logo speaks loudly about who you are and what you stand for.
Is your logo making the best first impression?
First, Consider Your Own Surfing Habits
Think about how you yourself go about making a new purchase online. You might start with a general search like, "buy ipad." Naturally, you'll come across the big guys like Amazon, ebay and Apple.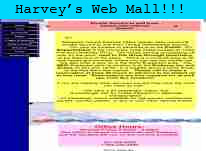 Chances are you've made several purchases in the past with all these companies, but let's say money is tight and you're a savvy shopper and know that a better deal is out there somewhere.
You go back to your search results and come across another site. Would you buy from (trust) a website that looked like the one here?
Now, Consider Your Potential Pet Sitting Clients
When a potential client is searching around for the best pet sitter, she'll have to consider the same sort of things you consider when making a new purchase.
Of course you are professional, responsible and trustworthy, but if a visitor can not get past her initial first impression, you'll never get the chance to prove it.
Take a moment to view your website with fresh eyes from a new visitor's point of view.
Here Is My Holiday Gift Offer To Help You Succeed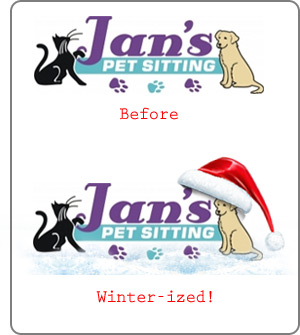 You know those websites you visit this time of year that have a modified version of their logo to include a holiday theme with snow and Santa?
Why do they do that? For one thing, it helps put their visitors in a buying mood. It also grabs the visitor's attention and looks professional.
I recently started making some holiday-themed additions to a few pet sitter logos by adding a Santa hat, snow and a snowman and the response was amazing!
I decided to offer it to all pet sitters at a crazy, affordable, 'OMG this is a no-brainer' price.
I want you to have a successful December, and this is one way to help you out.
Check out the examples and submit your logo for me to make holiday-themed today.
(I can only do so many of these.)
Visit https://petsittingology.com/holiday-logo/ right now.
And in the spirit of Thanksgiving, thank you for the opportunity to continue to serve this industry.