Struggling With Your Pet Sitting Business? Simon Cowell Can Relate!
Part 1 of our 'What Can We Really Learn From Celebrities?' series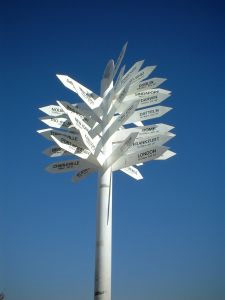 Think you have absolutely nothing in common with Simon Cowell?
Well, the British-born American Idol judge wasn't always bringing home $50 million per year. In fact, there was a time in his life when he didn't even have a place to call home.
Just imagine how defeated you'd feel if after starting your own pet sitting business, you went bankrupt. Twice. Staying down when the going gets tough is like the kiss of death for any business owner.

Simon Cowell is one of the highest paid people on television today. But as you'll see, he certainly didn't breeze his way to the top.
Let's look into a side of the man we all love to hate that is rarely spoken about: his humble beginnings.
In The Beginning…
Simon Cowell got his entry into the music industry at the age of 20. He was hired to work in the mailroom at EMI Music Publishing, where his father was an executive. After a few years of paying his dues, he was promoted to a record producer within the company.
With some experience now under his belt, Cowell left EMI and took a stab at forming his own independent music company. Not quite ready, his company went bankrupt forcing him back to work at his pop's publishing house.
Once stable, the motivated Cowell bolted from EMI for the second time inspired to create another indie music company. At this point, Simon Cowell had invested everything he owned into his new company. It was again not yet to be.
Drowning in a tremendous amount of debt, Cowell's company could not sustain itself and the man himself was forced into bankruptcy with no place to live.
At 30 years old, Simon Cowell was penniless and sent back to live with his parents. Never one to give up, Cowell decided enough was enough.
He picked himself up and managed to get hired by BMG music as a consultant in charge of – what else? – discovering new talent (see where that is heading?!). This transition was his defining moment and put him squarely on track for success.
So what can you learn from Simon Cowell?
To reach success, you have to persevere. And to persevere means you must take action.
Even Thomas Edison had to learn this. When he was creating the incandescent light bulb, it took him more than 10,000 times to get it right. Keep striving even when it becomes challenging.
Unfortunately, when the going gets tough, most people will look for the easy way out. I receive plenty of emails from pet sitters asking how to gain more clients, or how to effectively market their pet sitting business.
The answers are never quite difficult, but they do take some work. And that's where 97% of people will fail. They simply will not put in the minimum required work.
Take the PetSittingOlogy training course, for example.
We currently have a curriculum of over 30 topics and lessons detailing how to start a pet sitting business. These are, in fact, the exact methods we used to create our own pet sitting business.
Now, are any of the individual lessons particularly difficult? Of course not. But most people are looking for a way to succeed that requires very little effort.
Sadly, the facts of life and the laws of success do not work that way. Success requires calculated work and consistent effort. You need not turn yourself into a work-aholic but you do have to be willing to put in a bit of work.
Simon Cowell found himself bankrupt at 30, following a previous unsuccessful venture, and was still able to turn himself into one of the most talked about self-made personalities on television.
Love him or hate him, he put in the work every step of the way and did not give up.
3 things you can do immediately to make sure your pet sitting business succeeds
1) Make a promise to yourself that you will only focus on what you love.
If you simply do not absolutely love what you are doing, there is no real way you can achieve success. However, once you find the thing that you love, and that truly excites you, the one thing you become passionate about, there will be no stopping you.
Once you focus on what you love, as the cliché goes, it'll never feel like work.
2) Continually learn.
You must constantly learn new things to continually improve yourself. Successful people understand that their greatest asset is their mind. It is their power source. The mind is your foundation for all the success you will ever achieve in your lifetime. Continually invest in your greatest asset and you will be highly rewarded.
Immerse yourself in your business and your industry. Gain as much insight as you possibly can to become a powerful business owner.
3) Get back to basics.
Think about why you wanted to become a pet sitter in the first place. What excited you about the business? Are you sticking to your plan? Do you put the same amount of effort and enthusiasm into your job as you did early on?
Take a look through the first 30 topic titles and descriptions of our course and see if need to focus on any areas that may need a refresher.
There you have it. If you must, use Simon's story anytime you feel a bit defeated to help keep things in perspective. And, more importantly, stay focused, on track and put in just a little work everyday and you'll soon see a flourishing pet sitting business empire.