Pet Sitter Spotlight: Tomika Bruen, Out For A Walk Pet Sitting and Dog Walking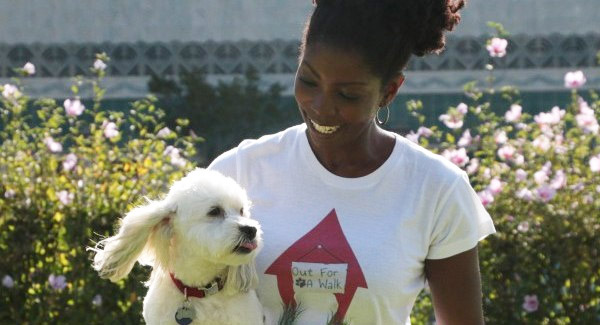 The day-to-day life of a professional pet sitter is often misunderstood.
So much goes on 'behind the scenes', both in the office and in the field, in order to give the impression of an effortless and successful job.
This series will spotlight 15 Professional Pet Sitters and Their Stories in an effort to pull the curtain back on extraordinary jobs well done.
Today, we say hello to Tomika Bruen of Out For A Walk Pet Sitting and Dog Walking in Los Angeles, California.

You Won't Know Until You Ask!
2014 was my first official year in business and what a year it was!
There are several highlights, but the one that stands out for me is the "Halloween Yappy Hour" my business organized for an apartment complex in Los Angeles.
I went to drop off my business cards in the lobby of a high-rise apartment building that I frequently pass. While I was there, the thought came to me that I should also ask about the possibility of hosting an event for the pet parents in the building.
The events coordinator for the complex loved the idea of a Halloween-themed pet event! She told me she had wanted to plan something for the doggies in her building, but didn't know what.
From there we made arrangements via email and set the date for the week of Halloween.
The tenants of the building were so appreciative – everyone that attended participated in the costume contest.
And Sponsors, Too!
Another aspect of the Yappy Hour that stands out for me is the sponsorship provided by other local small businesses. The businesses donated items for the goodie bags given to each Yappy Hour attendee.
Out For A Walk has social media to thank for sponsors' participation. There are many pet related businesses on platforms like Instagram, several of which we follow.
All it took to get other small businesses on board was to reach out via direct message on Instagram.
And to think, all we had to do was to ask the apartment complex if they were interested in such an event. And to put the word out on social media about wanting sponsors for the goodie bags.
We are looking forward to all the connections we will make in 2015 simply because we ask!
Over To You
Read More: Click 15 Professional Pet Sitters and Their Stories for all the featured pet professionals in our series.
In this story, Tomika made it look so easy. In fact, it truly is as easy taking the first step and simply reaching out.
Today, the Internet has legitimately leveled the playing field by making everyone accessible.
How can you do what Tomika did by getting over her own fear and asking the right person (in this case, asking the apartment complex if they are interested in working with her on a holiday-themed pet event).
Funny enough, the complex coordinator had already given the idea thought but had no knowledge herself on how to pursue such a thing.
Thankfully Tomika stepped up, took action, and made it all fall into place.
Now Your Turn
Let's keep this topic and dialogue going…
What is currently the one thing you would love to make happen for yourself and your business this year? Who can you reach out to in order to gain the needed support?
Think big!
You'll be surprised who you can get on board simply by making a call or sending an email.
Who would you love to reach out to?