The SEO Masterclass: Rank Better in the Search Engines for Your Keywords
Introducing the PetSittingOlogy Masterclass for Content and SEO with Joshua Cary and Bella Vasta.
Rank Better in the Search Engines for Your Keywords: Know where your website ranks in Google, Yahoo and Bing every day!
Once you see your daily placement, you can take appropriate action based on those very results.

What is all this about?

So many pet sitters today are wonderfully focused on things like:
Understanding keywords
Ranking high in Google
Creating website content
Writing blog posts and articles
Trying to find time to do it all!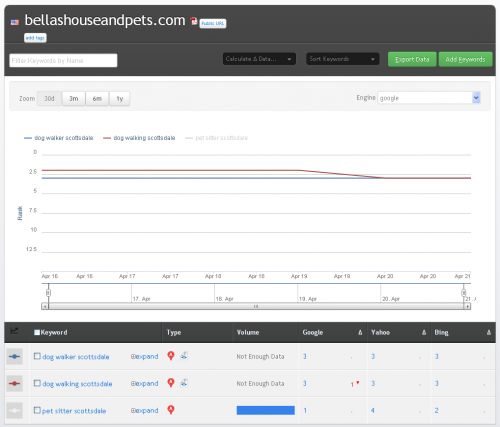 As a pet sitter, and pet sitting business owner, our free time is SO limited that we sometimes can't work on the things we know we *need* to work on.
That is why it's so important to have the tools, strategy, approach, and support in place. In other words, if you have a PLAN, how much easier would it be to get things done?
And if you could watch your keyword placement every single day, and knew EXACTLY where they appeared in Google, how relieving would that be?
With even that much info, you would know exactly what you should – and should not – be spending your time on.
The Masterclass Will Assist You For 30 Days

Well, you know that today in 2014, in order to create a thriving business, you need a fantastic website. And you know that your fantastic website has to rank well in Google for your chosen keywords when your clients are searching for you, right?
But how do you do all that??
You know how it's all about keywords. And you know how it's all about creating content. And you know how challenging it is to really monitor where you rank in Google, Yahoo and Bing, right?
No more asking your family and friends to do a Google search for you and let you know where you rank (that is not often accurate anyway). And since Google skews its search results to personalize it for what it believes you are looking for, searching yourself doesn't work so well.
Welcome to the PetSittingOlogy SEO Masterclass with Joshua Cary and Bella Vasta!
Imagine this… You commit to just a 30-day online session with us and other pet sitters. Nothing more, nothing less.
It's you, us, and the other pet sitters inside working diligently and specifically for 30 days on your exact needs.
Enroll for this 30-day SEO and content-building class and in that time you will track, monitor and watch your chosen keywords exactly where they land in the search engines every day.
TRACK – Login to view a daily graph of where each keyword lands currently in Google, Yahoo and Bing.
MONITOR – Look for any improvements in the search results each day. Are your keywords ranking higher today? Are they declining? Are they remaining the same?
WATCH – Now that you see exactly what your keywords are doing each day in the results, you can take SPECIFIC action based on those results!


Tuition:
Just $75
for the full 30 days.
Open Enrollment closes on Monday, March 3, 2014.
Class is from March 1 – March 31, 2014.
Take the class on your schedule, at your convenience.
Along with Joshua and Bella, and your fellow classmates, you will be guided to create the perfect content based on what your keywords are doing each day in the search results.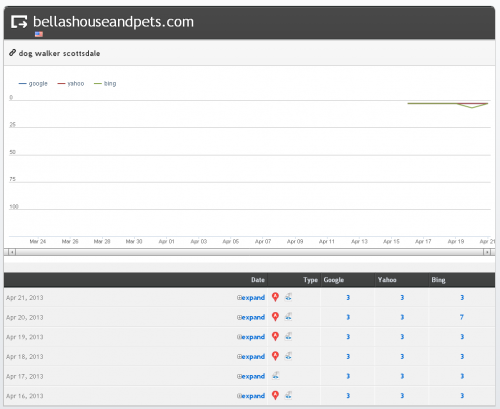 Here's What The Itinerary Looks Like
Week 1:
Day 1 – Submit a list of the top 3 keywords or phrases you want to rank for and monitor (this can be anything you choose: for example, pet sitter in Charlotte, dog walker Charlotte, Charlotte cat sitting).
Also, get to know others in the class inside the Members Area.
Day 2 – Sign into the ranking dashboard and instantly see where you currently rank in Google, Yahoo and Bing for each search term. You will only have access to just your website keyword rankings.
Plus you will see which other of your website pages currently rank and where they rank.
Day 3 – Watch the daily graph of your ranking placement for each key phrase and look for trends. Are you moving up each day? Are you moving down? Are you maintaining the placement you want for your selected keywords?
Begin to receive suggestions, feedback and input on how to improve your rankings for each key phrase.
Day 4 – Knowledge is power. Now that you can begin to see where your web pages rank for certain keywords on a daily basis, you can begin to take strategic and appropriate action. Work directly with Joshua and Bella, along with the other pet sitters, to begin crafting relevant content for your website based on your personal results.
Day 5 – Submit your writing samples and get feedback and input on the content itself, the tone, the writing style and the important headline.
Day 6 – Revise your writing draft and get it ready to publish. Send it to Joshua and Bella for final review.
Day 7 – Finalize your first piece of content and publish it on your website.
Celebrate and relax your first weeks accomplishment.
Week 2 – Evaluate how your 3 keyword phrases have been performing over the past week. Did they improve? Also, get ready to write content for your second and third key phrases.
Repeat process for 2nd key phrase as you did during Week 1.
Week 3 – Repeat process for 3rd key phrase.
Week 4 – Track, monitor and analyze your overall results. How much did your results improve in the rankings? How is business improving?
Make a plan with Joshua and Bella for your pet sitting business going forward!
Thanks for being a part of the 30-day SEO Masterclass!