Client Won't Accept Their House Keys Back! Now What?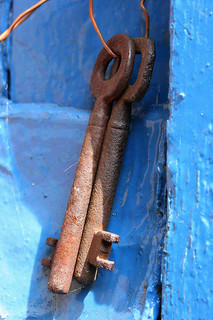 How many sets of client house keys do you currently have in your possession?
Plenty, I'm sure.
But, what is your [process,system] for returning those keys to the pet owner when the job is complete?
Now think about how your process would change if, for whatever reason, the client did not want to claim their set of keys.
Sound crazy?
Well, I received an email (a plea for help) recently from a frustrated pet sitter who finds herself in this predicament.

Ask yourself: "How would I handle this situation to make certain I am not held responsible?"
She writes:
Hi Josh, I need a bit of advice from another professional with a situation I have regarding an ex-client.

Here it is: I recently terminated services for a "vacation" client (not a daily walk client) for many reasons, including continuing lack of communication when her schedule would change, failure to answer my emails and phone messages regarding her schedule and/or the care of her pets during assignments, making reservations for 6 trips and then cancelling all but one at the last minute, then giving me grief over my cancellation policies.

All in all, it just wasn't worth it to me anymore to deal with the stress level this one client was causing.

I finally was able to reach her by phone and told her that I would no longer be able to provide service for her and told her I needed to return her keys. She refused to pin down a time when I could personally deliver them to her; no time was ever convenient that I mentioned.

Therefore, I told her I would be sending the keys back to her via certified mail. She has a box in a post office, so no worries about keys being mailed to her home.

The problem? She has refused to sign for this letter and pick up her keys!

She only has a few days left, and this letter and her keys will be sent back to me since she has refused to pick them up. I am at a loss for what to do over this — it has been stressful just thinking about getting those keys back in my possession. I do not want them; I do not want anything more to do with this client.

I have to wonder why she is refusing to go and sign for this letter, when I told her that was what I was going to do!

What would you, personally, do in this situation? Help! Feeling really, really frustrated… Thanks for any advice you may have!
My Response:
First of all, go you for having the guts, confidence and ability to "fire" a client. It is well within the right of the pet sitter to turn down jobs from pet owners that we feel are not a good fit, for whatever reason.
So, all that aside, the big question now becomes, What can you do with her keys to absolve yourself from any future claim that you did not return them, and are still held accountable.
You want to be certain that she does not come after you down the road and suggest you have her keys.
I do wonder why you chose to send them to her PO Box opposed directly to her home, but that's neither here nor there.
Let's expect the keys and letter return back to you.
Your next step can be something like one of the following:
1) Send her a note via multiple contact points (phone, email, text, letter…) letting her know that she needs to arrange pickup or receipt of her keys. Tell her she has until a certain date, after which point, the keys will be destroyed.
2) Send her keys directly to her home via FedEx or certified mail. Both options can provide a proof of delivery statement that should clear you from any future responsibility.
I wouldn't spend any amount of energy wondering why she is not picking up her keys currently from the post office, but I would simply take a form of action to protect yourself, and move on.
Your Response: Over To You
I know our pet sitting community can weigh in on this with other similar options for you.
Please leave your thoughts on what you would do in this situation.