4 Specific Ways To Improve A Blog Post [Case Study]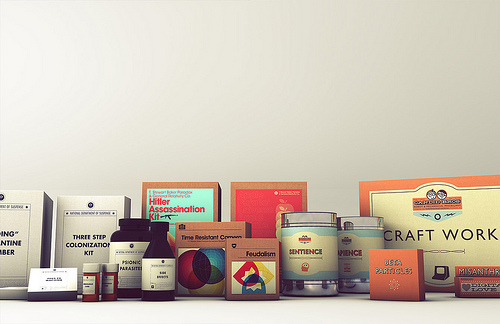 Whether you are comfortable with it, or not, blogging (or simply creating content) is a requirement in the battle of SEO (search engine optimization).
Google has repeatedly said that creating unique, original, relevant content matters. Or, as they say it specifically: "Provide high-quality content on your pages, especially your homepage. This is the single most important thing to do. If your pages contain useful information, their content will attract many visitors and entice webmasters to link to your site."
OK, so with that out of the way, today's post looks at a recent blog article from pet sitter Laura Capra of Keep Me Company Pet Sitting.

Below are my comments on her recent post titled How to get a last minute pet sitter.
4 Things That Specifically Make Her Post Work Well
The biggest thing to remember is that SEO is all about your visitors. You might think it's about serving Google, but the search giant only rewards sites that consider the reader first and provide a solid user experience.
Here are some reasons I love Laura's blog post.
It's honest.
Whether in person, or online, something amazing happens when we witness honesty and transparency. We ourselves let our own guard down and it's refreshing. We so much appreciate it.
In Laura's post, she goes right for the honesty element.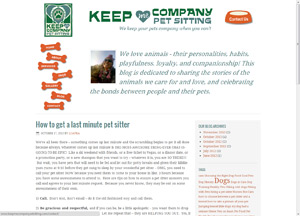 There is no sugar coating here. And who can't appreciate that?
She makes it clear that "we are doing you a favor" (by caring for their pet and being available last minute).
Being bold and direct works. It automatically weeds out those who are not a good fit to begin with. If you don't like, care for, or appreciate her tone, you most certainly will not appreciate her as a pet sitter.
It's got personality
Let's be real here: Nobody wants to read anything boring, drab, or flat, right? And we certainly have the liberty as pet sitters to keep things on the lighter side.
I'm a big advocate of finding your writing style, your voice, and your online personality. Once you do, you can take the liberty to write exactly how you would speak. It's refreshing and your audience will eat it up!
In the blog post example, you can practically 'hear' Laura speaking these words. Her persona and attitude jump right off the page. She evokes excitement in the words.
Tip: Write exactly as you speak. Period.
The title gives the reader a promise.
Typically, you want the title of your blog post to capture the interest and attention of you reader. If they see it in Google, it's the title that becomes the big blue link we click to visit your site, so make it count.
Also, your title should make a promise to the reader – and deliver on that promise.
In this case, the title is: How to get a last minute pet sitter. I can now expect to learn something very specific.
It's a "List" post.
There are a variety of ways to structure your blog post for success. The one here is called a list post.
As you can see, it reveals 6 ways to get a last minute pet sitter. List posts are always a great approach.
It makes things very easy to digest for your reader, and in turn, Google will love it (Google always loves things that focus on creating a wonderful user experience).
You can use a list post in ways such as: The Top 8 Ways to… 5 Dog Parks You Can… 12 Things About Your Dog That… etc.
3 Things To Make The Post Even Better
Now, here are a few suggestions for improvement. These are small ways to make the most out of your blog posts going forward.
Capitalize the first letter of each word in your post.
So, "How to get a last minute pet sitter" becomes "How to Get a Last Minute Pet Sitter."
Add a small image in the first paragraph.
I mentioned in a recent article some parts of the perfect blog post, and it talks about the how and why of adding photos to your posts.
Keep paragraphs small.
You should keep all paragraphs to a few sentences. This makes the entire post easy to read and scan.
Your intro paragraph can be broken up into 3-4 smaller chunks.
Notice how the paragraphs in this very article are kept to a small number of sentences each?
Extra Special Bonus Technique…
Going forward, try to begin each blog post with a question.
Why? Naturally, when a question is posed, we become engaged and we are now invested to keep reading.
The question does not need to be of a trivia nature, but rather something like this would work for the example post on finding a last minute pet sitter:
"How incredible does it feel to be invited to go away somewhere last minute?"
(Scroll through the blog posts on this very site, and you'll see how I use the technique, too.)
Want Your Own Blog Post Reviewed?
How would you like to receive a few pointers on your latest blog post?
Feel free to leave a comment below with a link to your latest (or favorite) blog post and I'll see how many I can get to review.
For quicker feedback, come on over to the new PetSittingOlogy community on Google+ (Google Plus) here.

photo credit: VFS Digital Design via photopin cc