Look How One Pet Sitter Got Her Phone Ringing Off The Hook (Say Cheese!)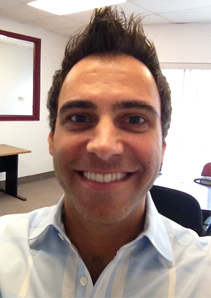 Hi! My name is Josh Cary. And that's me in the picture there.
Why am I posting a photo of myself?
To help prove a point that adding a picture of yourself to your pet sitting website creates an emotional bond between you and the visitor.
And that bond has powerful conscious and subconscious positive effects on your website visitor's entire experience with you.
This blog post was inspired by my pet sitting colleague Nicole Ryan from Pineapple Pets in Florida.
Nicole sent me an incredible email recently that is truly inspiring.
While Nicole is one of many pet sitters using my WordPress SEO Website System, she has taken it to the next level, and the results speak for themselves.
Read the email Nicole sent and you'll understand just how simple it is to achieve the exact same results:
-=-=-=-=-=-=-=-=-=-=-=-=-=-=-=-=-
Hey Josh!
Landed a new client who called SPECIFICALLY because of our site. She flat-out told me she only wanted Pineapple Pets as our website "is the best in this area".
Why? Well, for starters the template you provide is attractive, easy to navigate, and easy to use (even for a technophobe like myself!) From the client's perspective, that comes down to me. What I hope users of your site realize is that you provide the layout and support, they provide content.
January SUCKED business wise! Not many even though I was blogging and networking. Then, an epiphany.
I answered the question, "what do clients want to see when visiting Pineapple Pets' site?" Lists of "why hire us?" Maybe. List of services? Sure. Our blog? Probably. But what we have to realize via your site is that WRITTEN content is just a part of the whole picture.
My phone has been ringing off the hook for about a week. What changed? I have a picture of me and one of my dogs (Kona) on the front of my site so people can SEE me. I have a video of fetch with a dog named (no joke) Pineapple. I have more pictures on the "About Us" page. I am going to add a picture (with permission) of a text to and from a client. I am also adding a care note example. We talk about and write about these things, but I really wish pet sitters would PROVE what they do more via their site! I might even write blogs on these special things we do for our clients.
I know that Bella [Vasta] has encouraged sitters to do a brief "commercial" which is great! Sarah Johnson [Menly's Pet Care] has a good one. I think people want to see us in action and see what we DO. I will continue to encourage them to do what I did-and it was amazing to see the results! A picture is worth a thousand words and nothing against written content at all but SHOWING pictures of actually walking dogs/getting kisses/cuddling a cat/etc MATTER.
We definitely have the most pro site in our area-thanks again!
Take care,
Nicole Ryan
Pineapple Pets
www.pineapplepetsfl.com
-=-=-=-=-=-=-=-=-=-=-=-=-=-=-=-=-
How incredible is that?
Look at the photo Nicole added of herself. It's a normal, typical photo that anyone can shoot.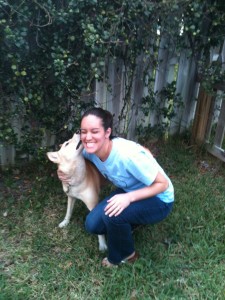 Watch the 21-second video she shot on her smart phone and simply uploaded to Youtube.
As a professional pet sitter, it's a typical moment you have been part of too many times to count.
So, let's go back to the photo of me at the top of this article.
I snapped it myself using my smart phone. I emailed it to myself and uploaded it to my website.
Your photo (like mine) does not have to be professionally shot, and it does not have to be "perfect."
Some might think I need a haircut, for example, and those people would be right. But I still think it's a better picture than no picture.
Think About What We Are Offering Pet Parents
The biggest thing you need to do when a potential client visits your website is to get that potential client to feel so comfortable hiring YOU.
Think about this: Every single pet sitter will offer the same service for a similar price.
So what separates one business from another? YOU.
And the immediate bond you can create between you and your potential clients when they visit your website.
The power of showing a casual photo of you – front and center- on your website's homepage can make all the difference you need to succeed.
What do you have to lose? You already have pictures of yourself that you can upload right now to your website's homepage.
Update * Update
Right after I posted this article, I received an email from a pet sitter (who wanted to remain anonymous) with a valuable response to this. She writes:
I have been reluctant to post a close up of myself because 1) do not take a good picture and 2) age. I do not want someone to think that I am too old or lack energy to care for their pets. I think we all know people who are young chronologically but have an "older" less energetic presence. Photos of my pets or showing me at an event are preferred.
Very valid take on the subject. How do you respond to this?
Why not do it?
So what do you think? Leave your thoughts in the comments and we'll keep the conversation going.