Inside the First 91 Days with the Woman Who Would Become My Wife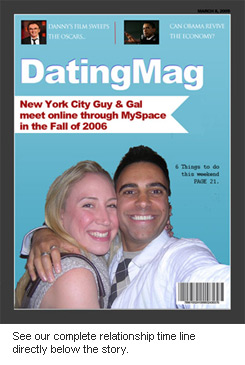 It's Thanksgiving Day here in the U.S. and, like me, you've no doubt received plenty of THANK YOU emails from family, friends and colleagues.
It's a special day. One where we go out of our way to show our gratitude to those who have made a difference in our lives.
My amazing wife Alitia has not been feeling physically well as of late.
You see, a few years back, she had spinal surgery (in her neck area) and now has two of her vertebra replaced with titanium.
You can imagine this might cause some additional pain and discomfort even though the operation was considered a success.
Alitia is, and always has been, an energetic, animated performer. She spent most of her adult life on a stage pursuing her dream as an actor.
Now, with titanium "holding her neck and head together" (as she likes to phrase it), she can't jump around as freely as she once could.
She needs to be careful and deliberate about some of her moves.
The interesting part of this story is that Alitia experienced this life changing surgery just 3 months (90 days) after we met.
We were simply dating, growing closer, still getting to know each other when this happened.
From that moment on, my mission has become assuring that Alitia would not become physically or emotionally beaten by her new circumstances.
She is one of the strongest women I've ever met (actually, she's THE strongest woman I've ever met, but I'm biased, of course!).
Today – almost 4 years after her surgery – Alitia still struggles with adjusting to her new life.
She has a lot of pain that we need to manage and together we get through it.
Day by day. Sometimes hour by hour.
Alitia's pain may sometimes come out of nowhere, and come on quickly, so when she is comfortable and active (living life), it's a moment to celebrate.
So I am not only grateful for the friends, family, and colleagues in my life today (on Thanksgiving) but I've learned to express gratitude every day for the time we get to spend with the ones we love.
Whether those in your life are completely healthy and happy today, or are experiencing a bit of difficulty, make sure to connect with them often and show your thanks, show your support and show your love.
I am so thankful for the person Alitia has allowed ME to become.
She can't believe that I chose to stay with her after only 3 months when this surgery took place.
I can't believe the profound impact she has had on my life ever since.
Everything happens for a reason.
Please be thankful for it all.
Enjoy your day. Enjoy your life.
Thanks for being part of this journey together.
Here is a time line of my relationship with my beautiful, wonderful wife, Alitia