What Are "Out Of The Box" Blog Topics And How Can I Use Them To Get New Clients?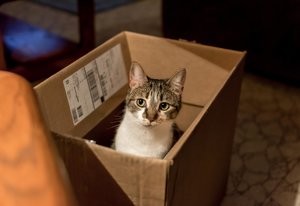 Blogging is all about being helpful to your audience.
I look at blogging topics as an Idea Tree – picture a Family Tree and then just switch out your great grandparents and put IDEAS at the top of your tree.
Each branch is its own theme (or topic), connected to other branches, connected to other bran….you get the point.
There is a whole section of branches that are directly related to pet sitting and dog walking.  Of course there is.  You want to write about Why You Need A Pet Sitter and How Walking Your Dog Can Help With  Behavior Issues.
Those are given topics.
Today we are going to look at some of the other branches and you'll see how you don't always have to write directly about dogs, or cats, or pets in general.
There are so many subjects that are INDIRECTLY related to pets.  We're calling them Out Of the Box (OOB) topics.
Why do you want to write Out Of the Box blogs?
It is an additional way to reach your target audience.
It is an additional way to help and inform your target audience.
One of my favorite OOB topic is about traveling.  People need care for their pets when they travel and that's the service that you provide!  They may not actively be looking for a pet sitter, but they are probably actively looking for places to travel.
Here is a spot on article by Lauren Hollas, owner of Leander Pet Care in Austin, TX:
4 Romantic Getaways for Valentines Weekend
You may think this article may be more suited towards a travel company.  Well, your clients ARE PEOPLE WHO TRAVEL.  And you want to be helpful to them!
Lauren took advantage of the Trending Now topic of Valentines Day, but you can put the idea of traveling in your readers head at any time of year.
Maybe they are sick of the snow, bored and suffering from cabin fever because it's too cold to even go outside to get the mail.
Out of the box topics are a way to CREATE DEMAND.
You want the reader to say "funny you should mention the beach, we just bought tickets for Hawaii and need your help with the animals."
Here is another great out of the box article that has a direct link to dogs.  You'll notice though that Alex does not mention her pet sitting company in the article.
SHE DOESN"T HAVE TO!
Vistors are already on her A & R Critter Care site reading the article!  She is providing knowledge that her potential client wants and needs.
How Your Pup Can Save Lives By Being A Blood Donor
This is how you turn visitors on your site into clients.  By giving them relevant, important information that is useful to them.
Sirena Doe, Owner of Happy Trails & Wag'n Tails in San Marcos, CA wrote one of the most out of the box blogs I've ever read.  It's had over 25 shares on her social media and gives pertinent information about the safety of toaster ovens.  Read it to see how she ties it into pets.
Toaster Ovens withOUT Non Stick Coating Are Safer For Pets
I found myself reading it and thinking "hm, I did not know that!".
BLOGGING IS ALL ABOUT GIVING THE READER INFORMATION.
INFORMATION ADDS VALUE.
Still having a hard time wrapping your head around why it's important to think outside of the box?  Your potential client doesn't know that they have a pet sitting problem, they have a "where can we get away for the weekend" question or "can my dog donate blood?"
The goal is to lead them to your site and give them answers to things that they are searching for.  And their answer for needing a pet sitter will be YOU! 
Nancee Marin, Owner of An Artful Dogger in Redlands, CA is another pet sitter who often writes Out Of the Box Blogs like this one here:
The Multipotentialite Advantage
What are some out of the box topics that you've written about or aren't sure if you should write about?  Share them with us in the comments section!