Google Maps (Local) Set of Rules for Pet Sitters (and No UPS Stores Allowed!)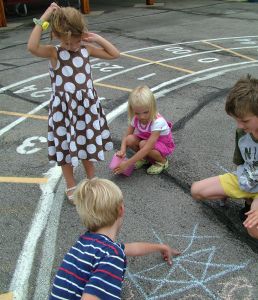 We all know that Google has a peculiar set of "rules" that you must follow in order to rank well in their search results.
You may also know that getting your pet sitting website listing to show up in the Maps section is a whole other ball of wax.
First, a quick overview of these Map listings.
Whenever you do a search on Google for any local service (restaurant, electronic store, pet sitter…) Google will present you with a list of results local to you above the regular search results.
In order to have a chance to show up in these local results, you'll need to submit your business through your Google Places for Business account.

FYI – Google Places for Business is also known as Google Local. And Google Local was formerly known as Google Maps.
Do not be confused further when you see your Google Business account attached to your Google Plus account. It can get a little confusing, so just go with it!
Read below the biggest error you can make…
The Most Tricky Part (Do Not Do This Wrong!)
Some pet sitters do not want to list their home address on their Google Business profile for a variety of reasons.
So instead, the pet sitter will opt to put a PO BOX as their business location address.
This is not good.
Some time ago Google stated in their quality guidelines for Local that PO Boxes are not acceptable.
OK, then… Some pet sitters further thought, "I will just list a UPS Store location as my business address since I can get what looks like a 'real' address without using a PO Box address!"
This is not good either.
Google does not like UPS Store addresses as your business address, either. And it will remove/delete your business profile in due time.
See this post by Google for further details on the subject: http://googleandyourbusiness.blogspot.com/2012/10/5-characteristics-of-healthy-local.html
It states: "We don't accept mail-receiving agencies, like P.O. Boxes or UPS Stores, as business locations."
In fact, it has already happened to a fellow pet sitting business owner.
Pet Sitter Google Page Deleted for UPS Store Front
Here's the email I received from Mike Meibuhr of Big Paw Pet Care about his Google Account Page:
Hi Joshua,

Just wanted to include some more about my Google experience. I upgraded my Google Places account to Google+. Initially they deleted that, which triggered a review of my places page and then a follow up delete.

I'm including the text of Google's emails to me. In speaking to many on their web boards, there is no way to contest a deleted page. It's just gone. And my reviews are gone too. And it takes a month to get a new places page back.

Anyway, email text from Google below.
And this is what Google themselves said to Mike about using a UPS Store front Location:
Hello there,

We've looked at your account and it looks like your business is not eligible for display on Google Maps per our quality guidelines.

Specifically, please do not create a listing or place your pin marker at a location where the business does not physically exist. P.O. Boxes are not considered accurate physical locations. The address you have listed is for a UPS Store.

Check out our quality guidelines at this link to see what types of businesses we're looking for on Google Maps:http://www.google.com/support/places/bin/answer.py?answer=107528

Thanks for your understanding.

Kind Regards,

June
The Google Team
So, What's A Pet Sitter To Do?
There is an easy solution, and it's the one Google wants you to follow.
If you do not want to list your home address on your Business listing in Google, you can click a few buttons that will hide it from view, while still informing Google of your true business address.
On the "Service Areas and Location Settings, make sure to check the choice for "Yes, this business serves customers at their locations."
And, check the box marked "Do not show my business address on my Maps listing."
Further, you can even mark a mileage service area radius, or include a list of areas you serve.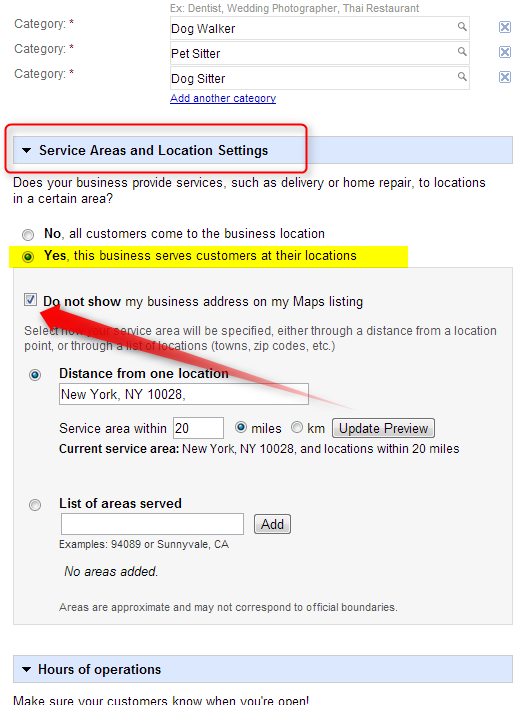 Caught Up?!
OK, take a breather. It's not all bad! Believe it or not, Google wants you to succeed.
They have these elements in place to keep the bad spammers away.
And as you can see from the image result above, Google now highlights the number of Google Reviews even more. They even will link to your Google Plus profile page.
While that's an entirely different topic, having a Google Plus page will soon become even more important on your quest for Google domination!
(I also have something neat coming your way that will help you get plenty more Google reviews.)
Over to You
So, what has your experience been with Google Maps/Local? Have you had an issues?
Are you sitting pretty in the Maps/Local results for your keywords? What other questions do you have?