Listen to a Recorded Call from One of Those Spam SEO Emails You Receive And See What It's All About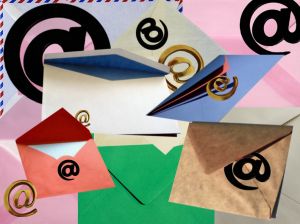 What's the number one thing you want from your pet sitting website?
More traffic? Top keyword ranking in Google? Better SEO (search engine optimization)?
Call it what you will, but I'm guessing you want all of that.
And rightfully so!
Running a pet sitting business with your website as your huge marketing tool takes work, effort, time and knowledge.
Many of us struggle just to keep up with the pet sitting visits, let alone have time to focus on the business side of things, right?

Check Your Email for Your Saving Grace (?)
Spam email continues to be a big annoyance, but it now comes in all shapes and sizes. Including spamming your inbox for SEO services.
You have no doubt received an unsolicited email like the one below that aims to "answer your prayers with SEO."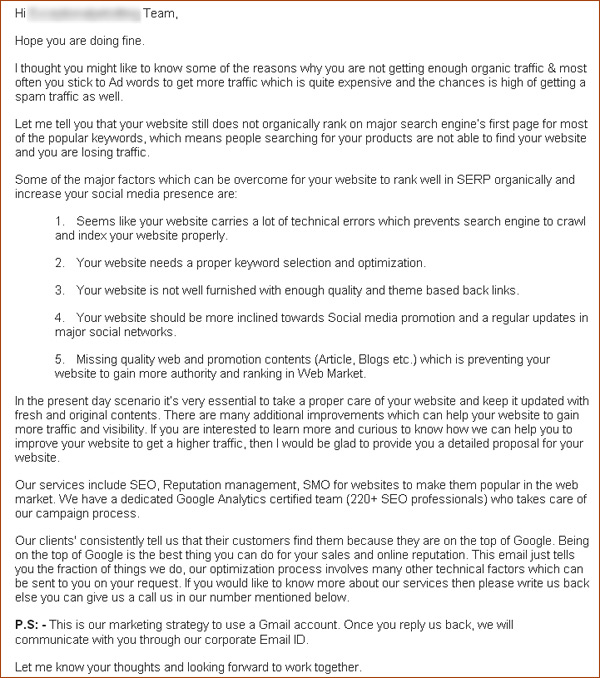 I decided to Call the Company for more Info!
Curiosity killed the cat. And I decided to actually call the company back to give them a chance to hear them out.
I have beeped out any identifying information.
Download the MP3 to listen on the go.
This Is How I Help
The bottom line is that you need to be careful who you work with. Yes, learning SEO can be scary, confusing, and time consuming.
Remember that Google is very particular with what they are looking for in a quality site (and it's in that quality site that allows you to rank well for your chosen keywords).
I spend my days helping pet sitters in all aspects of growing and nurturing their business. Most specifically, my passion is in helping you create a more effective website. This approach is never "one and done" – meaning there are not one or two things you should do to your website to complete your SEO and marketing efforts.
Your website is an ever-evolving process. And it's an ever changing process. Google is continuously restructuring their factors that allow a website to rank well.
However, the biggest factor is always creating a… well, I'll allow Google themselves to tell you 😉
From Google: https://support.google.com/webmasters/answer/40349?hl=en
Give visitors the information they're looking for

Provide high-quality content on your pages, especially your homepage. This is the single most important thing to do. If your pages contain useful information, their content will attract many visitors and entice webmasters to link to your site. In creating a helpful, information-rich site, write pages that clearly and accurately describe your topic. Think about the words users would type to find your pages and include those words on your site.
Over To You
So, what are your thoughts on all this? What do you make of the phone call? Have you received emails that promise SEO success?