Want More Clients? Google Can Help in 2014.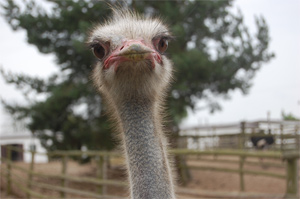 Chances are you know the name Marcus Sheridan (The Sales Lion).
I have spoken about him plenty, have done a Google Hangout with him (and Bella Vasta), and he was our keynote speaker at both PetSittingOlogy Conferences in 2012 and 2013.
(And rumor has it, he will be along for the ride at our 3rd conference in October 2014.)
Much of what Marcus teaches is insightful, informative and spot on.
Here is one point he likes to make in his presentation.

The Ostrich in the Sand.
Marcus shows a picture of an ostrich sticking its head in the sand in the hopes that the current situation will just go away.
Logic and reason tell us that it takes a bit more to make things go away than sticking your head in the sand, but the ostrich does this nonetheless.
Many business owners do that equivalent by ignoring certain things and just hoping they will go away.
Take, for example, your marketing efforts needed to get or keep your website high in the Google rankings.
Search engine optimization (SEO) as we know it is changing (has changed, and will continue to change).
It is no longer just about keywords and meta tags. (Those are the least of your worries these days.)
This is not simply my take on things, but it's what Google consistently says:
If you have a website but don't have a blog, consider creating one: A blog is a great way to connect with people who share your interests, or to publicize your site or product. Blogs are easy to create and update, and rich, useful, and original blog content will encourage readers to come back to your site. Here are some tips for making the most of your blog.
Source: Bloggers: Webmaster Tools
You can either choose to ignore the current best practices and remain exactly where you are today (the ostrich in the sand), or you can do the little bit of work needed to take your business to the next level.
I recently asked pet sitters who are part of my APSE community list things like "what do you need right now, what are you working on, and how can I help?"
Regardless of specific answers, the general consensus was in the form of…
"Help – I need more clients!"
This is something we can all relate to, right? You always want to get to that next level.
So, I took a step back and objectively thought, "If I was in this pet sitter's shoes, how would I go about getting more clients TODAY?"
No surprise, I would spend 100% of my time and energy utilizing my website to increase my client-base. While you might agree with that approach, you might still think, "OK, sure, but how? What exactly do I do? And dare I say, WHEN?!"
Here's the thing, though…
I get it! You are saying:
"I don't have TIME to work on my website…"
"I don't know HOW to work on my website…"
"I don't know what to DO, I'm not tech-savvy at all…"
You feel overwhelmed and perhaps a little confused on what to do next.
Yes, we are all in that same boat. No one I know has enough time, money, knowledge or resources to do everything that is required.
But so what?
Isn't it our job to make (or find) the time, save the money, acquire the knowledge or find the resources to do even that first step?
You can either sit on those excuses of having no time or resources (in which case absolutely nothing will get done to help your case), or you can do just a bit of work to make the time, hire the right person, or learn the steps required to put a to-do list together so you can get more clients.
(And it's more clients you want, right? How else are you planning to do it?)
One Solution — Handed To You.
As you know, my WordPress SEO website system for pet sitters is designed to get you 90% in the direction where you want to be.
I literally hand you a completely set up and done for you WordPress website that, at the very least, you simply add your content to and you are done.
All SEO is handled by us, a mobile version is included, all the hosting, Google Analytics, tech, plugins and widgets are in place so you can focus on what you really love doing (caring for the pets and/or running the business).
Truth be told, building just any website today won't cut it. Google is taking search and SEO in a whole new direction.
The New Direction of Google
You may have heard that when you and I do a Google search for the same term, our results are completely personalized and different from each others.
No more do we each see the same results when searching for "pet sitter in Cleveland" (or whatever key phrase you are looking to rank for).
Google learns to personalize our results based on what it thinks we want to see from factors including your own past searches, the websites you visit, the links you click, and your computer IP address location.
Yep, Google knows all of those things about each of us, and takes that into account when displaying websites in the search results.
Hummingbird – Google's Recent Algorithm Change
To make matters even more exciting, Google is now beginning to look beyond exact keywords, and is able to figure out what your intent through the search term is.
There's no question that the Hummingbird algorithm is only the beginning of change in search optimization, but smart content creators can be prepared to thrive in this — and any — environment that may come in the future.

This release is basically a platform that enables Google to better handle "conversational" search queries.
Source: Copyblogger: Why Google's New Hummingbird Algorithm is Good News for Serious Content Creators
For example, if I type in "best coffee in New Jersey", Google will filter pages by its knowledge of whether I'm looking for:
The closest convenience store to grab a hot cup of coffee on the go
Whether I'm looking for a pound of whole beans of organic Jamaican coffee
Or whether I'm doing a research paper on the most successful coffee bars in the area
Do you see how my original search of "best coffee in New Jersey" can mean different things to different people? Google is starting to gather the specific meaning of the person searching.
This holds true for potential clients looking for your pet sitting service.
No more does placing keywords on your page, or in your meta tags, hold as much value as before. Yes, it's still relevant and valuable to do, but strategically placing keywords and nothing more does not do as much good as it once has.
So, What Works Now?
I know you've heard this before but it stands repeating.
Blogging – or adding valuable content to your pages – is what Google rewards today.
Social media, and your role in it, also plays a key part in your overall Google SEO success.
There is a ton to digest, absorb, and understand. And the truth of the matter is that it will not stop or slow down. Information is crossing our paths today quicker than ever before.
We must figure out how to filter what we need, take action on that until completed, or disregard the information altogether.
Over To You
With information crossing our paths in more abundance than ever before, how do you handle, manage, and filter what comes your way?
Do you rely on certain tools to help manage the chaos? Is your pet sitting website performing how you wish? If not, what elements are you stuck on?