Is GPS Tracking a Smart Idea for Pet Sitters to Use?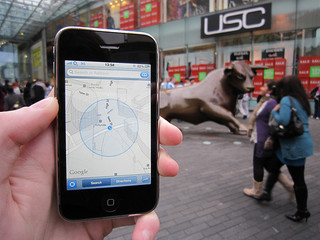 As you know, pet owners have many options when choosing a pet sitter in their area to serve them.
Our job then becomes to create a professional first impression through our website and hope that they make contact.
From there, you will have to continue to dialogue and differentiate yourself to become the clear and only choice.
Some pet sitters like to offer GPS tracking to their mix to give the pet parents an extra sense of security and control.
However, at times the concept is not all its cracked up to be.

Ahh, GPS tracking. Why do you taunt me so much?
On one hand, it sounds like the perfect feature to offer potential clients to help ease any fears about the job she has hired you for.
You can boast with pride that you have and use a GPS tracker, which will give her peace of mind of the exact time and location you walked her pooch.
On the other hand, it might cause you more headaches than it's worth. How?
Well, the tracking device may not operate as perfectly as you'd hope. Or it may give the potential client too much info to nit pick over and make your work that much more difficult.
2 Emails, 1 Day
Funny enough, I received completely separate emails from two pet sitters on the same day asking me advice about using a GPS tracker.
One pet sitter wrote:
Quick questions, hope you can help, I was using Pet Check Technology to GPS track in real time where we walk our dogs whereas clients can see that, when we arrive, departure, and I had full control. Problem is, system does not work well with Android devices and the owner doesn't want to work with me.

Do you have a reliable service or system you recommend to do the above functions while putting my customers at ease? This is second time in 3 months I am changing providers. How do you explain "change" to customers?
The other pet sitter wrote:
I wanted to ask you a question – what do you know about Pet Check Technology? I had stumbled upon their service/software/website a while back and I just checked out some of their demo videos.

I was originally looking for an app/service to track our walkers via GPS while they're working (just to ensure we know where our walkers are and as a safety net).

We had tried Veriwalk in 2013 but the app was awfully buggy and the developers refused to provide support. Anyways I'm just curious and figured I'd see if you know anything about Pet Check. Thanks!
What are the odds, I thought, that I get two emails separately nearly identical in nature?
I've heard pros and cons from both sides of the coin with using a GPS tracking device for your pet clients.
I'd love to hear from you!
Have you used a GPS tracking before? How did it work out?
If not, what are you reasons for specifically staying away from it?
Do you think it helps or hurts business?
Update From Pet Check:
May, 2015
When Pet Check was created in 2010 by an industry veteran of over 12 years our goal was simple: To bring the dog walking industry into the 21st century and to provide a great experience to all users. Pet Check manages everything for a dog walking company from scheduling to credit card processing, and everything in between. Pet owners get the accountability they demand and deserve for their pets that they were never able to get prior to Pet Check.
Our iPhone app was the first to launch and at the same time we released a beta version of Android. New and amazing full versions of both platforms have been out since late 2014 and are performing great for all of our users across 42 states and counting.
We believe that GPS provides the minimum level of accountability that pet owners demand and deserve for their pets. Pet owners want to know "where did you take my dog?" and "how long did you walk my dog?" and our GPS tracking answers these questions. GPS accountability is the basic performance metric of the services dog walking companies provide and being open and accountable to this data is something pet owners are demanding. Sure, there is trust. But it only takes one bad experience for a pet owner to lose that trust.
Pet check is much more than just GPS. It manages every aspect of a dog walking company and provides pet owners with the peace of mind they demand for their loved ones. Dog walking companies operate more efficiently, saving time and money, and also grow their customer base because they have this great market differentiator. Pet owners get real-time emails when their dog is picked up and dropped off, along with walk notes, maps and photos. They can manage their schedules and make online payments. Pet industry spending is at an all-time high because of the way pet owners view and love their dogs and Pet Check has been at the forefront of keeping up with that demand.
---
The websites referenced in the questions are Pet Check Technology and Veriwalk
photo credit: William Hook via photopin cc