How Your Driving Habits Affect Your Pet Business Success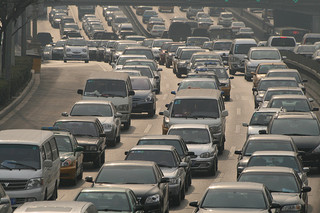 If you had to rate your own driving ability on a scale of 1 – 10, where would you land?
There are two kinds of drivers in the world: Good drivers and bad drivers.
We all know what the bad drivers are like: they hardly ever signal and change lanes without warning. They speed out in front of you and then go 16 miles per hour. They hold up traffic without a care in the world.
I happen to love driving and consider myself a good driver. I'm aware, I'm defensive, and I'm considerate to those around me.
I do also like driving a bit on the faster side. I'll always choose the left lane when possible. I do not believe that makes me any less of a good driver. I just like to speed along.
My wife, however, will disagree. She happens to hate my driving! She would prefer I slow it down a bit even though I feel I am safe as can be.

A Recent Drive That Says It All
This past Thanksgiving, my wife and I with child in tow and are heading up north for a 3-hour trek to attend a nice holiday dinner.
I'm (safely) cruising along the highway in the left lane when traffic begins to build and we are forced to slow down a bit.
This goes on for a while, but is expected, you would imagine, on the busiest travel day of the year.
However, something becomes apparently different.
As we are moving along at less than half the speed we could otherwise be doing, the highway curves and I'm able to get a view at the front of the this traffic line, several cars ahead of me.
What I notice shocks me.
While we spent the past hour in what appeared to be a tremendous traffic jam was in reality the cause of just one car slowly leading the pack in the left lane.
Allow me to put this another way:
We were not in any sort of big typical traffic jam.
We were crawling along because of one car a quarter mile ahead doing half the speed limit in the left lane. This one car was holding everyone up.
Not one car in front of me decided to look ahead and go around this car. Instead, we were all unknowingly following the leader. And this leader was inadvertently holding us all up, when we should have been able to assess the situation and cruise past the offending car.
In Which Lane Is Your Pet Sitting Business?
How many times are you finding yourself in this same situation when it comes to your pet sitting business?
Are you slowly cruising along stuck behind someone you are following who is going "20 miles per hour in the left lane while holding up traffic?"
Are you being held back without even knowing that the person you are following is slowing you down?
I couldn't believe that so many of us on that highway simply needed to see what the hold up was and move past the slow driver.
Every business person at every stage of their career will follow someone. It's what we do, it's how we learn, it's how we evolve and grow.
The trick to success is discovering the right people to follow at the right time in your business.
Do not go blindly believing you are doing the best you can. There are always more options.
In order to grow and succeed for yourself, you will often need to peek ahead past the person you are following to see if they are truly leading you correctly.
The People I Follow.
There are people in our pet industry that I follow, observe and learn from: Bella Vasta and Tori Lattig to name just two. And some I follow outside our industry: Copyblogger, Marcus Sheridan, Gary Vaynerchuk, plus many others.
We all have the ability to follow and lead at any given time – and it's something worth getting good at. The ability to follow the right people can make or break your business.
There's been a recent push among some pet sitters to dive into Google+ (Google Plus). Google+ is unlike Facebook in that you should and could easily use G+ as a follower to build professional relationships that will take your business in any direction you can dream.
Personally, I make incredible connections every day on Google+. And you should, too.
It is not about promoting yourself as a pet sitter so you may gain the attention of a pet owner who wants to hire you. That's what your website is for.
Instead, think about a social platform like Google+ in the bigger picture. How can you jump in to build relationships with others who can ultimately assist in advancing your career in any way you wish.
You have dreams, wishes, desires, and goals, right?
Let's begin to think differently about our marketing strategy. Let's think differently about blasting our links out into the social networks and pray that a pet owner contacts us to book service.
Instead, begin to think about building powerful relationships and alliances with those who can also benefit from a relationship with you.
Decide what you want to achieve, and decide who you are going to follow to get there.
Want More Google+ Stuff?
Many of us have been jumping into Google+. It's very early in the game and you will not believe how this currently ties into SEO and Google rankings.
Mark your calendar for Wednesday, Dec. 11, 2013 at 12noon EST for a live video Hangout with Josh Cary, Bella Vasta, and G+ expert Ronnie Bincer to get your feet wet understanding Google+.
Here are some relevant links:
RSVP to the Hangout on 12/11/13: https://plus.google.com/u/0/events/c0jf880glict5u5ltpvt9qmh4b8
Learn from the PetSittingOlogy Community on Google+ https://plus.google.com/u/0/communities/102120374565567909493
Learn from the Jump Consulting Community on Google+ https://plus.google.com/u/0/communities/115011400422542251466
Over To You…
I'd love to hear your thoughts on all of this. Please let me know what's going through your mind. Do you have specific big goals that you'd love to achieve if only you had the right connections? What would it take to get you there?