Relive All The Best Moments from Our 2014 Vegas Conference and Become Part of 2015 Today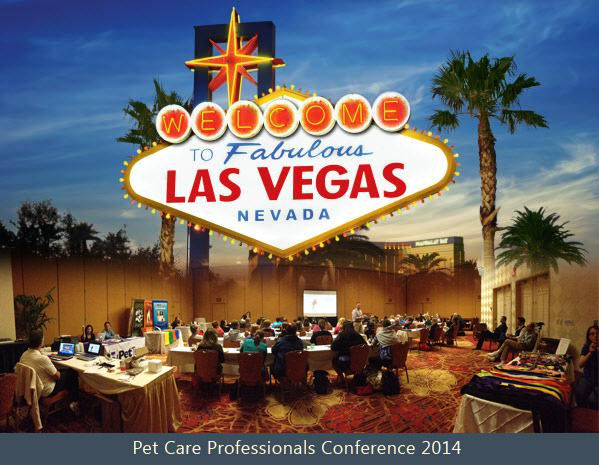 You know that feeling when you come back from an incredible vacation or getaway and it's all you can think about?
Or when you return and lay in bed at night amazed at the profound impact it had on your life and business?
Yep, it's that feeling with an overall sense of pride and humility (Primility) that I carry with me since our return from the 3rd Annual Pet Care Conference in Las Vegas.
While we are in the early stages of planning our 4th annual event (set for October 2015), 32 of our colleagues have already put up a deposit to be part of the experience next fall.
So many amazingly good things came out of this event, not only for me personally, but from the results I see everyday online from those that attended.
Allow me to share with you just some of the highlights from the 2014 3rd Annual Pet Care Professionals Conference.
If you appreciate what being part of this event, experience, and journey might do for you and your business, consider joining us for our 4th Annual Conference.  (Exact details below on how you can become part of our movement!)
I assure you, with pride and humility, it will remain with you in ways you can't imagine.
Click on each picture to view the full image.
Highlights from the 3rd Annual Pet Care Professionals Conference
PetSaver CPR and First Aid Training Class by Pet Tech
Attendees were given the opportunity to become fully trained in pet first aid and CPR from The Pet Safety Guy himself (Pet Tech founder), Thom Somes.  This was one of the highlights of the entire event.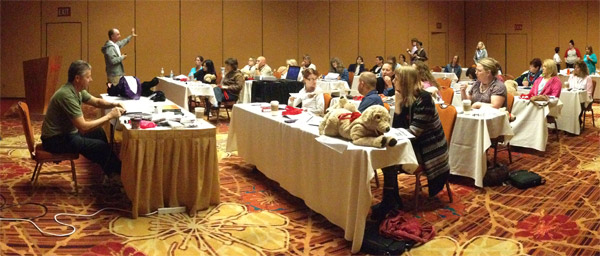 Opening Night Cocktail Reception
Attendees were invited to a 2-hour welcome event. Complete with full open bar and light fare floating around. Entertainment was provided by Michael DeSchalit (comedy magician and hypnotist)
Vegas-Style Private Comedy Magic and Hypnosis Show
Immediately following the opening night gala, attendees were escorted to a private showing of Michael DeSchalit's comedy hypnosis show. Volunteers were asked to participate in the show, and hilarity and much laughter ensued.
Here is a short clip of one hypnotized pet sitter getting "pulled over by a police officer"!
More than $2000 Raised for Rescue Group
Our chosen charity this year was Those Left Behind Foundation. A group based in Las Vegas doing incredible work. We were thrilled to spend each day with a different pooch representing their organization.
Here is 'Sir', a 220 pound Mastiff (one of the foundation's therapy dogs).
Day 1: All About The Marketing Side of Things
After an opening keynote presentation from Thom Somes, Day 1 consisted of three power house presenters, each building on the topic of content creation and website marketing.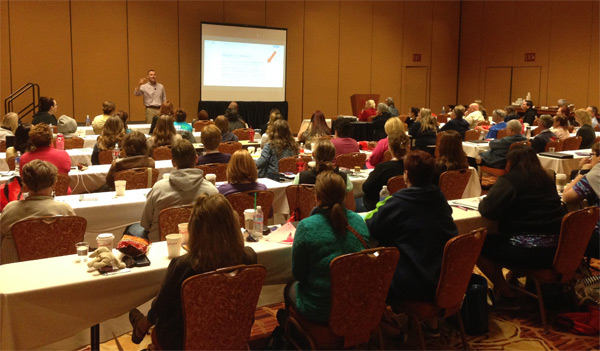 Our Lunch Hour Live Broadcast
One of the highlights of the entire event turned out to be our live broadcast during lunch on Day 1.
Here is the full replay.
For those that could not attend this year in person, it was a chance to still feel part of the action. It also gives a solid representation of what our conference events are like (hopefully you can join us in 2015!).
Day 2: All About Pet Care
While Day 1 was focused on your business marketing efforts, Day 2 focused on pet care. Our friends Tori Lattig and Megan Ventura returned for a third straight year and presented on the topic of "myth busting" some common dog and cat behavior misconceptions.  Lisa Faust introduced us all to Canine Colors (something many of us are still talking about and implementing in our lives and businesses).
Dinner Theater Fun Fun Fun
More than half of the conference attendees enjoyed "Marriage Can Be Murder", a hysterical murder mystery dinner theater show.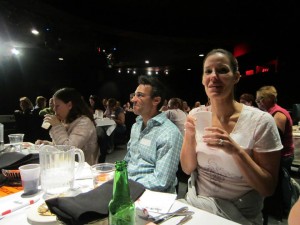 Not only was this a chance to relax, unwind, laugh and bond even more, this was a chance to get our industry 'out there' even more.  Much of the show was interactive and customized to highlight the pet care industry!
Or Do You Prefer To Get Scared Out of Your Mind?!
A separate group chose to go the "scary" route and spent their evening getting 'tortured and tormented' at one of the nation's most horrifying haunted house experiences.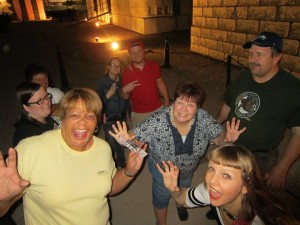 While I'm personally upset I couldn't attend this outing, I'm not too certain I would have gone had I known the extent to which you get 'haunted' during this experience!  (Crazy stories were shared the following morning about what took place inside the haunted house.)
Day 3 is Workshop Wednesday
Nothing like asking a question or discussing an ongoing challenge you might be facing, and receiving a handful of relevant, immediate suggestions. Feeling a sense of camaraderie, kinship, and bonding made this day special and memorable in its own right.
Lifelong Friendships
This is the section that gives me the most joy.  I just love seeing all the photos of new friends, old friends reconnecting, and all the joy and laughter everyone had.
Aside from two ladies enjoying a delicious chocolate martini from the nearby "Chocolate Bar" you will see a shot of the fully catered lunch we serve each day (along with a full continental breakfast we offer each morning to start your day right).
Not to mention, of course, all the education, inspiration and learning that took place.
So much good came out of our 3rd Annual event. Least of which were the 32 people who already said "YES, I will return for the 4th Annual!"
32 of our Professional Colleagues… And Counting!
This part makes me tear up with pride and gives me tremendous motivation to go even further.
At the event, we announced an offer to put down a $100 deposit to secure your spot for 2015. This deposit came with plenty of perks that you can read about here.
One of the special benefits each person who chose to put up their deposit for 2015 was a special drawing we would do giving one lucky person a fully awarded registration ticket to attend next year.
In about one week's time, 32 pet professionals have already committed to joining us for our 4th Annual Event!
Here is the video announcing the winner!
And Here Is Your Chance to Say YES to 2015 and Join Us!
If this excites you on any level, and you would like to be part of something incredible, consider joining us in October, 2015.
Come on board now and be part of the movement.  Saying YES to the event today does not simply grant you admission to the live event itself, but it also gets you into our support community today.
This means you have practically an entire year (starting now) to join our online network in order to ask questions, get direct and immediate advice, work on your goals and to-do list, and grow your business.
Look at it this way: By coming on board today with your deposit, you will get so much more than your money's worth, that the live event will be an amazing BONUS after all you've experienced and accomplished with us during the year.
Are you ready to be part of a pet care professional movement with us?
Details: Pay a good faith refundable deposit today of $150.  This will go directly towards your ticket registration fee and you will lock in the guaranteed Early Bird pricing (along with the option to pay small monthly payments).
Complete pricing and fee structure along with refund policy will be finalized and announced in the coming weeks, but we can tell you total fee will be in the $300's range.

Click the button above to submit your $150 deposit for the 2015 Pet Care Conference!  Full details to follow, but you will lock in best pricing (Early Bird pricing) today!
If you like what you see on this page, and would like to experience growth in your personal and business lives, this event is for you.  Come on board today and become part of our incredible movement to further improve the recognition of our beautiful industry.