The Missing Piece To A Successful Pet Business (Become Part of Something Bigger Than Yourself)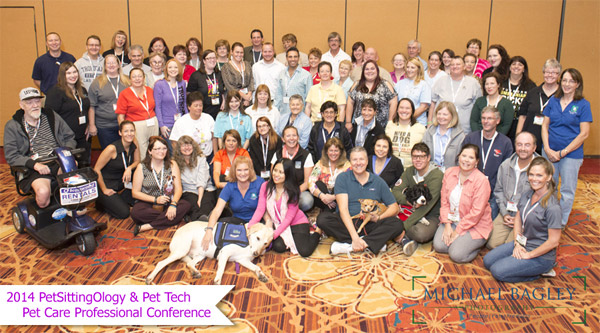 Whether you believe in God, a Higher Power, or something else, our time here on Earth is miraculous. Many believe that each of us is "hardwired" for glory.
To appreciate that fully, it's important to understand the full definition of GLORY in this regard, and how it can be directly applied to your life and the success of your pet care business.
The dictionary defines glory as "high renown or honor won by notable achievements."
Aren't you (consciously or subconsciously) working your hardest to achieve 'high renown'?

Aren't you deliberately doing everything you can to be known by as many people possible in your target market? (That's 'renown.')
How This Applies Personally (to ANY Aspect of Your Life or Business)
It's nearly impossible to achieve any sort of success or achievement without the positive support of family, loved ones, or colleagues.
This past week, close to 70 people returned home from our 3rd Annual Conference in Las Vegas.
I began my opening remarks with the notion that this entire experience is a collaboration between all 65+ people (plus 3 dogs!) in the room.
Imagine having the support and motivation of dozens of your respected peers. Imagine the energy and vibe in one room where each person is genuinely looking out for your best interest.
Imagine the relief and excitement you feel when you have a clear vision for a successful business. And imagine the love, admiration and friendship you bring with you every step going forward.
Well, imagine no more.
What I described above is exactly what every person in the room was lucky enough to experience and take with them even upon returning back home.
Become Part of Something Bigger Than Yourself
One of my personal goals for the conference was to provide the perfect insight and environment for each attendee to return home and DO something with what they just experienced.
In less than a week, I have surpassed that goal.
In our private Facebook group for attendees, many are reporting the action they are taking. Others are asking advice from their new friends and colleagues.
And all feel connected to and empowered by a force bigger than ourselves.
Become Part of that Power and Connection.
Whether you attended our event this year, or not, please make it a point to become an integral part of the whole with us in 2015.
What we all have the potential to create and experience together is beyond miraculous.
Here is the current offer for you…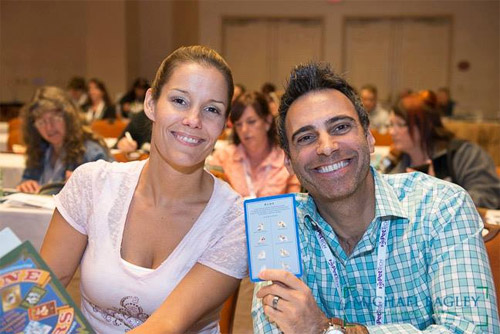 Introducing The PetSittingOlogy & Pet Tech Inner Circle Alliance
What: Provide a $100 deposit to secure your spot at our 2015 conference.
Where/When: October 2015 in Las Vegas, NV (subject to change)
Why: By securing your spot today, you become part of our Inner Circle Alliance and will receive these additional and ongoing benefits:
* Lowest Registration Fee Ever. Lock in today the absolute lowest registration fee we will ever offer this year.
* Inner Circle. At least once per month, you will receive ongoing updates and insights from the conference development team. Get exclusive invites to virtually sit in on closed door meetings, conference calls, and video sessions with the organizers.
* Donation in Your Name. We will randomly select one winner from among all the "Inner Circle Alliance" members. This person will have their $100 deposit delivered directly to our 2014 chosen charity, Those Left Behind Foundation.  (We were able to raise over $2040 for the Foundation during our conference this year!)
* Be Our Guest. The winner selected to have their $100 deposit donated to the Foundation will have no additional registration fee obligation and will be awarded a fully paid conference registration ticket to attend the 2015 event as our guest.
* Matched Donation. The winner's $100 donation to the Foundation will be matched by Josh Cary/PetSittingOlogy on behalf of his 16-month old daughter, Danica.
* Access to both the private Attendees group and the private PetSittingOlogy group on Facebook. Grow your business, network with your colleagues, and get your questions answered.
How: Excited to become a proud ambassador of what we are putting together? Ready to create amazing things in your life and business?
Secure your spot to our 2015 event and become an Inside Circle Alliance member today with your $100 deposit!
Direct link to Paypal:
—-> https://petsittingology.com/15
Deadline: Sunday, Nov 2, 2014.
Yes, you may SHARE this opportunity with your network.
Details and Fine Print: Because of the nature of the donation aspect of this offer, there are no refunds for the $100 deposit. It can, however, be transferable to another person. This means if at any time a friend or colleague would like to go in your place, will we gladly apply your deposit to his/her future payment. Also, any future payment applied in addition to your initial $100 deposit will be refundable, according to the official conference refund policy we put in place.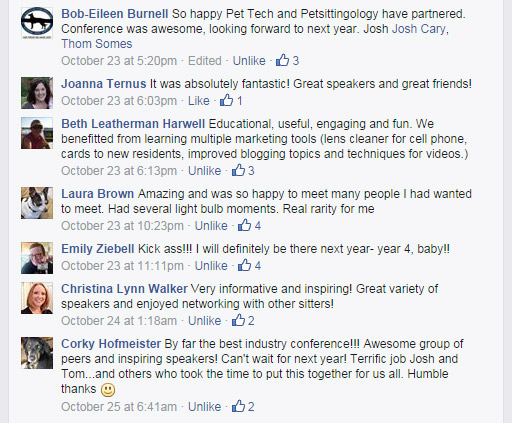 Live From the 3rd Annual Conference!
To give those who couldn't attend in person a taste of what we do and how we do it, we broadcast live during our lunch hour. Here is a look into what you can expect at one of our events!
Don't miss out on the best opportunity to become part of the 2015 4th Annual Conference! Click Here to SAY YES and Register Today!