Marketing Your Pet Sitting Business With A Car Magnet Or A Car Wrap
Here at PSO we talk a lot about your on-line presence and blogging – that's where it's at in this day and age.  It's why our web site template is tailored to SEO and mobile ready right out of the gate.
What about other marketing opportunities though?
One popular and fun marketing opportunity is using a car magnet or a car wrap!  With all of the miles we drive around town, our cars can be the most visible marketing billboard!
CAR MAGNET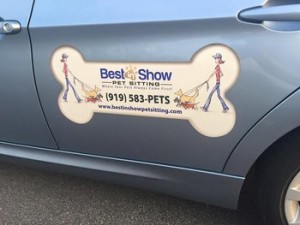 Hillary Rich, owner of Best In Show Pet Sitting in Morrisville, NC has a very cute, very eye catching bone shaped magnet!
Pros of using a car magnet:
If you are at a red light or at the grocery store, people are going to notice your magnet.  Instead of singing along to the radio, they may start thinking about their (or their friends) needs for a pet sitter.
WAY TO DRIVE (pun intended) visitors to your web site.
You may have the best web site in the world but it doesn't do you any good if you are not getting visitors.  Think about how many potential visitors you are getting in front of as you go about your normal routine.
Maybe you have a client that is concerned about security and does not want people to know they are out of town when you are parked at their house. Maybe you are going on a personal road trip across the country and don't need to be advertising.  Easy peasy, just peel it off and put it in the trunk.
Also to consider, some Homeowner's Associations may not allow car advertising and you can remove it when you are parked in your own driveway if you need to.
Cons of using a car magnet:
Size restraints.  It may be hard to include all of the information you want on a small magnet.
They can fly off of your car, especially in bad weather.
They crack with extended exposure to the sun
Can leave a discoloration mark on your car if you do not remove them periodically.
Hillary got her magnet at MBS Communications.  A company that provides marketing materials for veterinarians, groomers, boarders and other pet care professionals.
CAR WRAP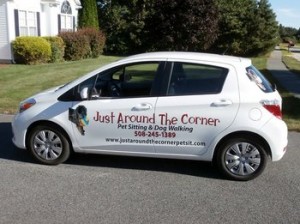 Pamela Ramhein, owner of Just Around The Corner Pet Sitting and Dog Walking has a great wrap on her car!
Pros of using a car wrap:
A full car wrap is hard to miss.  We have a car in my town that we've dubbed "The Deli Car" because every time we see it, we get to punch (lightly) the passenger and say "Deli Car!".  We actively look for it, we have fun when we see it, it's become a part of our town.
That kind of branding is very difficult to get and a car wrap is a great way to do it.
A quick run through the car wash and you're good to go.  It's clean, professional and shiny!  A car magnet may get stolen but your wrap won't be!
You have a lot of room to play with when you use your whole car.  Don't go over board, you want it to be easy to read and not too busy, but you have plenty of room for your logo, phone number, web site – whatever you can think of to include!
Make sure to have that info on the back of your car as well for when you are in traffic.
Cons of a full car wrap:
It's not removable.
More expensive
May be a security risk for some clients
Pamela contacted a local sign business.
If you use a magnet or a wrap – make sure to be a good driver!
Regardless of if you advertise on your vehicle, make sure to be aware of your insurance company policies.  You often need a Business Insurance Rider when you use your car for business.
Please share with us in the comments your experiences with a magnet or a wrap!  We always love to hear from you!