Here's Why This Pet Sitting Website Gets Lots of Clients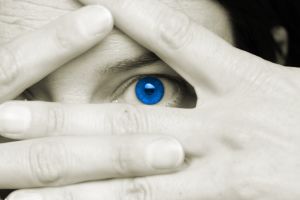 When was the last time you visited a website and simply stared at it for a while trying to understand what made it work so well?
Call me a website nerd, geek or junkie but I have a passion for doing just that. And pretty often, too.
Especially when it comes to pet sitter websites. As you know, I love all things website, and focus on that as the main topic of my teachings.
Put another way, turning more of your website visitors into happy clients is not something that happens by accident.
When creating my own pet sitting business website a few years back, I was certain to place specific elements on the page that would strategically increase the chances of a visitor taking action by getting in touch with us.
This effectively turned visitors into leads, and turned those leads into clients.

Here's A Pet Sitting Website That Got It Right: A Case Study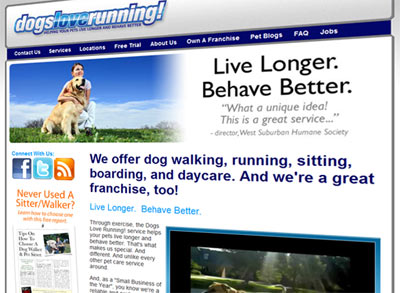 I came across the website DogsLoveRunning.com recently that contained 7 strong sections that I would recommend to any pet sitter. Here they are in no particular order.
1. Big Bold Headlines
We are bombarded with dozens of different websites throughout our day. Nobody reads every word on every site. Instead, we learn to scan pages before making a full commitment to stay in the hopes of getting a general idea of what's offered and how we feel about the site.
All this literally happens in a matter of seconds, and usually on the subconscious level.
So, how do site owners combat this? By making your website easy to read and scan-able. One of the best ways to achieve high scan-ability is to utilize big, bold headlines that instantly speak to your visitor, letting them know exactly what your site stands for.
2. Testimonial From Reputable Source
It's no surprise that testimonials and reviews work to help establish your credibility to a brand new visitor. Whether purchasing a product or service, consumers want to know that others have bought here before and were happy with that decision.
It's all human nature. While most pet sitters have reviews or testimonials on a page on their site, how many have a glowing quote front and center for the potential client to see shortly after arriving?
Try finding a glowing sentence or two that a past client has raved, and add it to the top part of your web page.
3. Social Media Icons
Yes, we're all on Facebook and Twitter these days. But did you know that placing a link to your Facebook or Twitter profiles can have a big impact on building trust with your visitors?
How? Through social accountability. When a potential client visits your site, simply knowing that you are connected publicly through social media will give them a sigh of relief that you are accountable to a bigger group.
Whether you actually participate in any of these communities is a different story, but the psychology behind the icons on your site remains the same.
4. Tip Sheet for New Clients
Whenever a potential client lands on your site, they are coming with a few key questions they need answered. Any good pet sitting website will naturally answer these questions through the course of their pages, but offering a downloadable tip sheet for new clients will do a world of good.
First, it makes the process of answering their questions completely easy and stress-free. Next, it shows you are professional and understand your clients' needs. And finally, it acts as a lead capture by requesting their email address in exchange for the tip sheet.
5. Video
Video works. It's become the norm on many media websites and Youtube is growing at an astounding rate.
We love video. And you don't need to be a filmmaker or editing genious to pull it off. There are plenty of inexpensive and free tools to create visually appealling video.
Or, you can simply fire up your computer's webcam and create a compelling video that way. Dont' like that idea? Then capture your furry clients doing what it is they do best and your in business.
Whichever path you choose, highly consider adding video to your website. Many pet sitters already have.
6. Clear Photos of Owners
Pictures and photos are one of the quickest ways to connect with your visitors and establish trust between the two of you. Without a photo of you on your website, your potential client has no real way of connecting.
You do not need professional photos taken. Any candid, clear and direct shot of you will work fine. If you do not have a picture (or pictures) of you with and without pets, I highly recommend adding one to your homepage.
It will personalize the whole experience for your visitors and will get you more calls.
7. Free Trial!
This is truly something you do not commonly see in the pet sitting industry. DLR offers any person who requests it a free trial of their service. How's it work exactly? Simply schedule an initial consultation with them, and directly after the meeting, they will take your pooch on a complimentary 15-minute walk (or run)! How many of those consults do you think are going to look elsewhere?!
How Does Your Current Website Compare?
There you have it. After reviewing your own pet sitting website, leave in the comments below how many of the 7 elements above you already use on your site, and which you might consider adding.
Speaking of adding, you'll notice the DogsLoveRunning.com site has gotten pretty successful that they recently sold their first dog walking franchise.