Halloween Safety for You and Your Furry Trick or Treater
This is a guest post written by Ashley Spade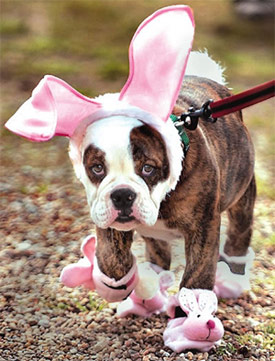 If you're anything like me, you can't wait for Halloween to roll around. It's the perfect opportunity to eat candy, dress up and show your pet a good time.
Last year, I took my dog, Sir Winston Pugsalot, around with me for a round of trick-or-treating. He loved the opportunity to walk around, see all the costumes and traverse other people's lawns all night.
This year, I'm living in Chicago, so we can't quite have a repeat of last year. I was pretty bummed, until a friend told me about a shelter fundraiser at two downtown Chicago hotels. It's a Halloween party for you and your pet, with prizes for the best costumes. Sign me up!
Whether you're hosting a party, taking your pet out trick-or-treating, or heading out sans pet, you'll need to keep a few tips in mind for a safe Halloween for you and your favorite furry friend.

Out for the night? Hire a Sitter
Even if you normally leave your pet at home alone for a few hours, you might want to consider hiring a sitter for Halloween night, especially if you live in a neighborhood with lots of small kids.
You're likely to receive trick-or-treaters, and since you won't be home to answer the door, their incessant doorbell ringing could make your pet freak out. And, if you have a particularly defensive dog, he'll be stressed by the amount of strangers stomping through your (his) lawn. A sitter can help keep your pet calm and comfortable.
Keep the Candy for Yourself
Sir WP loves to beg. He shoots me that pleading look and I could give into just about anything—except for candy. No matter how great your dog is at giving you that "puppy dog look" or how great your kitten is at rubbing against your leg, keep in mind that candy, especially chocolate, is dangerous for your pet. Buy them a special pet-approved treat to indulge in while you devour chocolates and sweet tarts, but leave the candy for humans only.
Choose a Safe Costume
Take it from me: I know that pet costumes can be adorable. But, the truth is, unless your pet is used to wearing a sweater at the very least, a costume is an unpleasant experience. If you're not absolutely positive that your kitten will enjoy being a strawberry short cake this Halloween, leave Fuzzfoot to his fur and instead give him a special orange collar with a Halloween trinket instead.
If your pet does like dressing up, make sure the costume you choose is free of masks and choking hazards. It should not restrict your pet's ability to move, hear, bark, meow or breathe. Have your pet give the costume a test run the night before. If they seem to enjoy it, they'll love the opportunity to show it off on the big night.
Be Safe if Taking Your Pet with You
When I took Sir WP out last year, I kept him on a short leash and made sure his ID tag was firmly affixed. With so many other people, cars and pets out, your dog will have a lot to be distracted by. If you're in an especially busy area, you might even consider carrying small dogs until you're out of the congestion.
If you see a stray dog, do what you can to make sure it gets home. Halloween is a high traffic night, and a bad time for Spots to be far from home.
Keep Your Home Safe
Halloween is a great time for decorations, but just like any other time of the year, you should make sure that your décor is pet friendly. Try not to leave out chewable items, cords, lights or candles. Try to leave carved pumpkins outdoors and make sure to supervise your pet when outside.
If you're having a party, remember that your pet lives there too. If your dog isn't used to having a lot of people around, you might consider leaving him a different part of the house during the busiest part of your evening. Also make sure that your pet doesn't dart out the door whenever adorable six-year-olds come by looking for free treats.

Ashley Spade, also known as Sir Winston Pugsalot the First's favorite human, is a law student in Chicago. When she isn't studying, she enjoys competing in 5K races, trips the the bark park, and blogging. Keep up with her adventures on twitter: @ashspade
Readers: Share with us below your favorite Halloween pet photos, stories and tips!
Photo Credit: dr_XeNo