The Worst Business Practice Ever (All Over 22 Cents)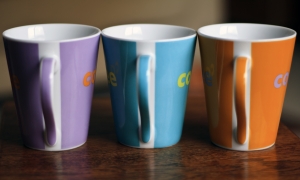 Every morning, I head over to my local 7-Eleven (convenience store) to fill up on my much needed cup of coffee.
Always offered are 4 cardboard cup sizes; 12oz, 16oz, 20oz and 24oz.
My routine is to grab the 16oz. cup, fill it up with regular black coffee and head on my way.
This morning, however, something was off.
As I made my way to the coffee section, I saw other customers looking a bit confused.
Getting closer, I immediately became confused with them.
The 12oz and 16oz cups were nowhere to be found. Instead, there were big empty voids where they usually are.
I turned to look at the closest employee and she simply offered, "We didn't get our delivery."

Odd, I thought, that one late or missed delivery would cause 50% of the coffee cups to run dry.
Does 7-Eleven order just enough cups that if a delivery is missed it causes their entire inventory to run out?
My head was already beginning to hurt and I just needed my coffee.
So I did the next logical thing.
I took the bigger 20oz cup, filled it up 3/4 of the way with coffee and headed to the counter.
It was my turn and I quickly said to the cashier, "This is 16 ounces…"
Ignoring my remark, she replies back with, "$1.92." (The usual price for the 16 oz is $1.70.)
I said, "No, look, I filled it up just 16 ounces. You don't have the smaller cups."
"That's not my problem." she said, as I couldn't believe my ears.
"But it is…" I said back. "You don't have the smaller cups…"
"Sorry, nothing I can do." she said and waited my next move.
I couldn't believe I was having this conversation. I placed my cup on the counter and said that I didn't want it then.
The cashier took my cup of coffee, said OK, followed by, "No problem. Thank you."
"No Problem?" I kept thinking…
I left the store and went a block up the road to Dunkin Donuts and got my 16oz coffee, still thinking about the terrible customer service I just experienced.
Is This Just A $0.22 Principle?
So, what do you think? Should I have agreed to pay the 'forced' extra change for the coffee I didn't take in the only size cups they had?
Or should 7-Eleven have honored the amount of coffee in the cup because they didn't have the smaller ones delivered?
What would you have done as customer? What would you have done as business owner?
Leave your thoughts in the comments section below.
* Update – Update – Update *
Just one day after this article was posted, I have an interesting update on the situation. (This just shows the power of the Internet today.)
Funny enough, a pet sitter active in our community here happens to work in the 7-Eleven corporate office. When he saw my email, he immediately got in touch with me and said he will pass along my story to the appropriate people.
By day's end yesterday, I received a very apologetic email from a 7-Eleven business manager from the Northeast Division. He assured me that the franchise owner, quote, "will take the necessary measures with the employee and I could assure you that is not in his policy to take that action and the employee took it upon herself to make that decision."
He then asked me to call him so he could 'make it right.'
We spoke for a short bit and he handled it perfectly.
I may not return to that specific 7-Eleven but at least now I feel comfortable again giving 7-Eleven my business.
So… What can we as pet sitting business owners take away from all this?
Leave your thoughts below.