Day 7: Helen Woodward Animal Center
Day 7
Helen Woodward Animal Center, California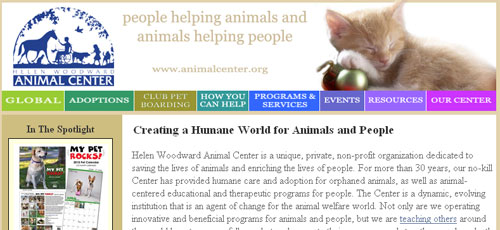 Located on 12 acres of land, Helen Woodward Animal Center is a unique, private, non-profit organization in San Diego County that, for over 30 years, has been committed to the philosophy of people helping animals and animals helping people. We are a no-kill facility that receives no government funding and relies heavily on tax-deductible contributions from private donors to continue our life-saving mission.

Editor's Note:
Helen Woodward Animal Center successfully finds homes for 3000 cats and dogs each year.
Their 'Home for the Holidays' pet adoption drive is sponsored by Iams, and through partnerships with other shelters around the country, this holiday drive helps find homes for over 1 million orphaned pets each year.
The shelter's pet education program reaches 22,000 children each year. They achieve this through their AniMobile camper, bringing animals directly to the schools to teach students in the San Diego area.
Perhaps most heart-warming is the Helen Woodward Therapeutic Horse Back Riding program (now running more than 25 years). This program allows those spending their entire lives in a wheel chair looking up at others to gain a different view of the world from sitting on top of a horse.
The shelter also provides animal therapy to those in need, along with an AniMeals program – bringing pet food to those in need of assistance (much like Meals on Wheels does for people).
Truly one of the most amazing videos on what's really possible in the world of animal care and wellness, Helen Woodward Animal Center is a pioneer doing incredible work.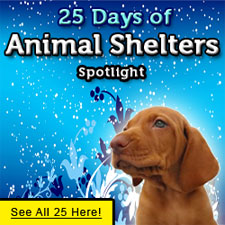 Click banner to view all 25 days or copy & paste this code to place banner on your website: