Day 10: New Beginnings Cat and Dog Rescue
Day 10
New Beginnings Cat and Dog Rescue, St. Louis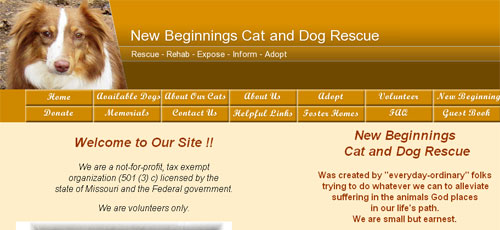 Was created by "everyday-ordinary" folks trying to do whatever we can to alleviate suffering in the animals God places in our life's path. We are small but earnest.
Our Motto: Rescue – Rehab – Expose – Inform – Adopt. Our goal is to prevent the euthanasia of any dog or cat that we are able by rescuing, placing in foster care to begin rehabilitation and physical care including veterinary, training and behavior modification needs.

Editor's Note:
If you've ever needed a true-to-life story about the horror that goes on at typical puppy mills to only consider pet adoption, meet Breeze.
New Beginnings Cat and Dog Rescue was able to rescue a terrified Australian Shepherd who only knew life spent in a dark crate, while giving birth too many times.
Naturally so, Breeze was skittish, frightened and did not trust people. Over the course of two years, Breeze has made tremendous progress and is currently living a happier life with a foster family.
The YouTube video below shows the overall good this rescue group is doing…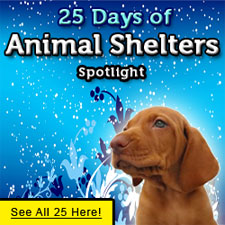 Click banner to view all 25 days or copy & paste this code to place banner on your website: