Blogging and Keywords: A Real Pet Sitter Blog Post Example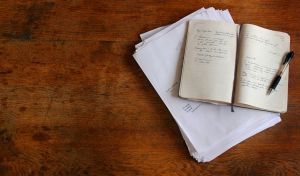 If I were a betting man, I would say you fall into one of three categories when it comes to pet sitters who blog:
1 – You currently blog, and are excited about the higher results in the search engines you are receiving because of your blogging efforts.
2 – You currently do not blog, but understand that you probably should learn more about it so you can reap the rewards too.
3 – You do not blog, have no interest in blogging, and do not understand why you should in the first place.
Don't get me wrong: Blogging takes work.
It takes work to pull off, and it takes work to learn the ropes of how to do it correctly.
But it's easy as pie to learn (anyone can do it) and blogging will help catapult your website to the top of the search rankings.

Blogging and Keywords
I love receiving email from pet sitters.
Here is one I got from Dawn Dubelbeis, of Critter Caretakers Pet Sitting, on the topic of blogging and keywords.
Dawn writes:
Hi Josh,
I've been blogging like mad! 🙂 One every day since the 3rd! I wanted to know should I be creating a new page for each blog or is listing it as a new post sufficient enough for Google to consider it in my rankings?
For my SEO keywords on each blog, is it ok to be using some of the same words that I've used on other blogs? I don't know what the rules are about flooding with keywords.
Thanks, Dawn
My Reply
Hey Dawn,
Great questions, and congrats on blogging like crazy!
Whether you blog once a day, once a week, or once a month, the point is simply to get in the habit of adding new content to your website.
The great thing about using WordPress as part of your website to blog is that you can create content whenever the moment arises and set the post to automatically publish at a predetermined day and time in the future.
So it's easily possible to sit down to write a few new blog posts just once per month, and set each one to publish every Monday for the entire month.
When you create a new blog article, it should be created as a new POST (not Page). Both will be looked at identical in the eyes of Google, but for the user experience a post is the way to go. This will automatically have it searchable in the posts, and allow your users to comment, etc.
Keep doing what you're doing and you will continue to succeed.
It is OK to use the same keywords in different blog posts as long as you are not going over board or stuffing the keywords just for the sake of trying to get them in.
It is more relevant and powerful to place the appropriate keywords and phrases sprinkled naturally though out your content and in the title.
Dawn's Reply
Hey Josh,
Thanks for your help. It answered my questions. I *think* I understand about what you're seeing regarding putting keywords in naturally, but obviously I do try to put them in. That's the whole purpose of blogging, right? Can you read this article and let me know what you think? It's one of the articles that I use a lot of different keywords in.
http://www.crittercaretakers.com/dog-boarding-vs-a-dog-pet-sitter/
Thanks, Dawn
My Reply
Hi Dawn,
Yep, you got it right. Your article is right on track.
You do want to be careful with one thing though. You mentioned that you put a lot of different keywords in that article.
Ideally, you want every article to focus on just one keyword or key phrase.
Sure, you can use different words in the article but the rule of thumb is to use one keyword per page or article.
Your example blog post should focus on the key phrase "dog boarding vs. a dog pet sitter in Mesa".
Other than that, you are right on target!
How Is Your Blogging Coming Along?
So many pet sitters are jumping on the blogging train – and for big reason. It's literally one of the quickest ways to impress Google, show up higher in the search engines, and to land more clients.
Dawn, along with plenty of other pet sitters, uses my WordPress Website System that handles all of the SEO and design work for you. You can blog with ease and take control of your own website without having to rely on a designer for every little change.
Tell us below: What are your current thoughts on blogging?