Here at PSO we talk a lot about your on-line presence and blogging – that's where it's at in this day and age.  It's why our web site template is tailored to SEO and mobile ready right out of the gate.
What about other marketing opportunities though?
One popular and fun marketing opportunity is using a car magnet or a car wrap!  With all of the miles we drive around town, our cars can be the most visible marketing billboard!
CAR MAGNET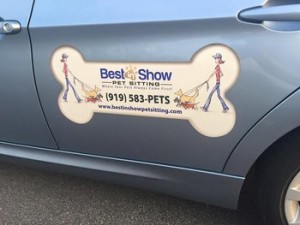 Hillary Rich, owner of Best In Show Pet Sitting in Morrisville, NC has a very cute, very eye catching bone shaped magnet!
Pros of using a car magnet: