Can you Spot the Fake? A Primer for Pet Sitters on SPAM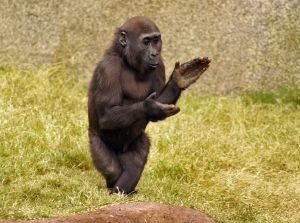 Who doesn't love receiving compliments?
Even more, who doesn't love receiving unexpected compliments from strangers?
But the compliments we receive online are often not the typical "Wow, you look really pretty today!"
We all know how to spot and detect spam. Sometimes it is very obvious while other times it is cleverly disguised.
All Compliments Are Not Created Equally
I recently received an email from someone out of the blue through Youtube that begins as a glowing compliment of my work.
There was plenty of thought put into this one. Can you spot where the spam part becomes apparent?

Hello there,
After watching this video http://www.youtube.com/watch?v=QsbnHv_SGzE , I decided to take a few minutes and tell you that I had found it fantastic.
When I was looking through your videos I couldn't help noticing that not many people are watching them. The video I liked had only 7 views. I mean come on people!
Seriously, Your vids are some of the best around, and can't believe more people haven't enjoyed them.
I don't say this often, but your videos are really some of the best I have seen on YouTube.
It's so weird that people seem to watch the same kind of garbage videos all the time. I mean just look at the most popular videos, when compared to yours they seem so stale.
Getting views used to be a problem for a friend of mine. He was finally able to start getting tons of views when he found,
becomeviral. c o m
Basically what happens is they send you a ton of views to your videos. That helps you get ranked in the YouTube search engine which is when your views can really take off.
Let's break this one down.
It is not addressed to me by name but that alone doesn't make it spam.
It includes a URL to my actual Youtube video (score one point toward legitimacy).
The email notes a current view count (score one more point toward legitimacy).
It all starts going down hill from here! A pitch for the website link quickly begins.
The entire email becomes fake once it becomes an ad to visit their 'become viral' website.
And they are trying to pass the link through Youtube's spam filter by adding spaces between the .com letters (BIG signal that this is not legit).
Here are some ways to protect yourself from spam:
-Comment spam on your blog can be a nightmare to manage. Install and activate the Akismet plugin to reduce on nearly all comment spam. There is now a fee to use Akismet, however users of my WordPress-powered Website System get it included.
-Check the return address clearly. When you get an email delivered, you will most typically only see the name (or company) written out in the From field. Make sure to look at the actual From email address. This can be an easy give-away that its spam.
-Encrypt your actual email address when posting on your website. Spammers are known for sending out automatic programs that scour the web looking for email addresses to spam. If you encrypt your email address, you have more protection against receiving unsolicited email. Here is a solid, free email encryption tool I have used on many occasions: http://www.dynamicdrive.com/emailriddler/
-Get a Gmail account. While I could go on and on all day about all the reasons you should be using Gmail to run your business and your personal life, the one relevant here is the built in Gmail spam filter. Barely any spam even makes it way to my inbox anymore. And if one slips through the cracks, I mark it as spam and Gmail will continue to 'learn' about what is and what is not spam.
Bottom Line
Use your common sense. Not all spam is created equally.
Sometimes the spammer wants you to maliciously click on a link to inject a virus on your computer, while other times they want you to check out their service offer.
How have you been spammed before? Does one particular incident stand out? Did you accidentally click on something you shouldn't have? Share your story in the comments below so we can learn together.