How Putting Up $38,000 For This Year's Conference Scares the 'Bejesus' Out Of Me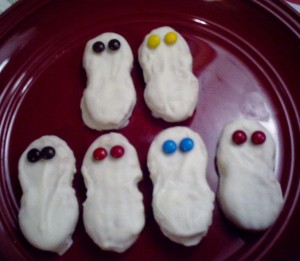 Back in 2012, I had the opportunity to head to Vegas for a much needed break.
While I'm never one to "turn off" completely, I knew that I'd love to be able to make some good 'business' use of my time away.
One idea lead to another, and within just 2 months, I put together what became the 1st Annual PetSittingLIVE conference.
It was over 2 full days, featured 8 speakers (including our good friend, Marcus Sheridan) and had 12 pet sitters over-joyed they showed up.
It was a success on every level. And like a drug, I was ready for more!
Since there were no formal sponsors at that event, the majority of the finances came out of my pocket.

While that bottom line isn't near the 2014 current conference bill of $38,000+, why was I thrilled to put up my own money at the time?
Invest In Yourself and In Your Business
It was an investment. An investment into my business at the time that (hopefully) would pay off down the road.
I thought if I could pull this off, this could be the start of something that will grow bigger and better each year. And that would be a great big win for all of us…
Thankfully, I was right.
I just hit the 5 year anniversary of PetSittingOlogy and am giddy with excitement every day I get to serve you as a professional pet care provider.
The contacts and relationships I have made along the way with both industry professionals and expert speakers and presenters has been invaluable to the continued success I enjoy each day.
So, what have I learned along the way?
Here are some of the lessons I've learned as I put together an event I can be proud of. Scare Yourself Silly. Often.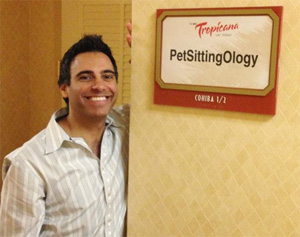 If you're not scared out of your mind, you're not doing it right.
In order to grow as a person, and within your business, you need to push the personal envelope.
If you don't ever get out of your comfort zone, you will not reach your maximum ability. And that's not good for anybody.
I have a terrible habit of biting my nails. I know, I hate it and I have to stop.
And I go through phases where I do not touch my nails.
But I know that if I catch myself continually at my fingers, and my heart is pounding, and my mind is racing, I'm doing something right at that moment. (That means I'm doing something worth doing.)
Things should scare the 'bejesus' out of you. Your adrenaline should get pumping. Fear at the right time is a good thing. It means you are approaching something you will come out stronger on the other end after pursuing.
If what you're doing does not get your heart pumping and your energy going, find something that does.
Do something in your business that terrifies you. Make a call to someone. Write an email. Publish an article. Post a video of yourself. Anything. Something.
100 times out of 100 times you will come out stronger, and you'll look back and wonder why you were scared or nervous to begin with.
Jump Into the Deep End
I'm not one to tread lightly when I have full belief in the direction I'm going. This is certainly the case with these annual conferences. If something is worth my time, it's worth doing full out.
I weigh my options, analyze the possible results, set a plan, and dive into the deep end.
I encourage you to approach all your projects in the same way. It's never a good idea to jump in the deep end blindly. You'll want to make sure you know how deep the pool is, what obstacles are in the way, and take note of your surroundings.
Only then will you have the full picture to make the educated decision to do it.
Trust Your Gut
I chose to ultimately commit to this conference as big as I possibly could because I trust my gut.
It took me a while, but some years ago I knew I could trust what my instincts were telling me in any given moment.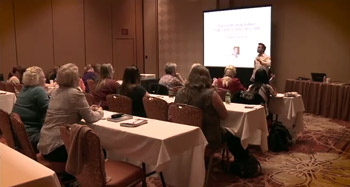 With this upcoming 2014 Event, I knew it was the right thing to do.
Last year's event ended October 8, and the minute I returned, the planning for 2014 needed to begin.
I got back in touch with my contacts at the Tropicana Hotel and discussed details.
I had to commit to a certain number of attendees so they can reserve the correct size rooms for us, and I had to commit to a certain number of hotel rooms, so they can quote the best possible hotel group rate.
Twelve months before the actual event I was on the hook for at least 70 rooms and at least 100 attendees.
These numbers were put together by me and my team (colleagues, accountant, attorney…) based on past history and current interest.
My gut has not yet let me down.
Know Your Goal (or Numbers) Every Step Of The Way
We speak a lot in our industry about the importance of setting the correct price for your services based on a variety of factors.
You shouldn't simply look to copy what others are charging for a pet sit without the knowledge of 'WHY' to back it up.
For example, your service, time, marketing and energy all require a price tag.
If you charge $18 per visit, you'll want to factor in things like gas, insurance, staff (if you have them), marketing efforts, advertising, website fees, and other costs it takes to acquire every new client.
This is all before you have even paid yourself. You may be surprised at what you actually make per visit.
Running a live conference is no different. While I have a budget, it's sort of backwards.
I have to pay for a whole host of things well in advance before any money is sent my way.
Clearly, $38,000+ is not coming exclusively out of my own pocket.
So, how do I approach that number.
Since I have trusted my gut, crunched the numbers (projections), and cannonballed into the deep end, I now have a clear vision of what I NEED to reach financially.
Here's a brief behind-the-scenes- breakdown on some of the expenses:
Opening Night Cocktail Event, (2 hours room rental at the Tropicana) complete with live entertainment, open bar, and light food options floating around: $7500.
Continental Breakfast and Full Sit Down Lunch (over the course of the event): $200 per attendee (or $20,000 for 100 attendees).
Speaker Fees: $9500 (includes speaker fee, air fare, hotel stay and food)
Audio/Visual – this is video camera equipment, microphones, video projector and screen, and person to operate it: $7250
This does not even cover any incidentals or marketing/promotion efforts before and during the event.
A note about the event's cancellation policy.
You'll notice that on the checkout page of the conference ticket page, it states a cancellation fee of $75 is retained if you need to cancel your registration.
Understand that this is not in place to deter or punish one from canceling. I get it. Life happens.
The fee is in place as payment for my time already put in. Each attendee becomes a very real "line item" – in the words and mind of my bookkeeper!
This is quite similar to the pet sitter who charges a fee to show up for the meet-n-greet (which I think is something that works very well, and certainly a discussion for another post).
In that scenario, the pet sitter is charging for their time and the future promise of a long term job. No pet sitting job has yet taken place but that fee would be applied to the future booking.
So how do I sleep at night?!
I set specific goals. I scare myself silly as often as possible (and that allows me to work even harder to bring on sponsors and more attendees).
I encourage you to scare yourself silly, too!
Believe me, you will feel invigorated on the other side and you will that much stronger for it.
"If I'm going to do something, I'm going to do it right." –Joshua Cary.
Can you relate?
Want to be part of this experience this October?
Join us here: PetSittingLIVE Conference event and details. (Current pricing increases on July 31, 2014 so register today to lock in best pricing!)
Thanks for reading – feel free to leave your thoughts in the comments below. I reply to each one.