Pet Sitters: The Bad Spam Man Has Arrived (and How to Tell If Something is Spam)
The answer is plenty.
We have to focus on things like landing that new client, coordinating staff schedules, updating the website, and returning phone calls and email.
The one thing we have zero time to focus on is spam cluttering our inbox.
And I am not talking about spam email from companies trying to sell us on services that claim to "Rank #1 in Google – Guaranteed!" (That is a completely different topic!).
I'm referring to the spam email that is designed to get you to click through to a malicious site.
Why Do People Send These Spam Emails, Anyway?
What's the benefit to these people who want to direct you to these bad sites?
A few things.

-They can lead you to a site that will install malware (bad software) that can reveal personal information.
-They can infest your computer with a virus.
-Or they can lead you to a website that you believe is the REAL Paypal (or your REAL bank), asking you to enter in your username and password, and little do you realize, you just provided your credentials to a phoney entity.
So, how do you tell a SPAM email from a real one?
1 – Look at the headers. Expand the Sent From and Sent to area to look at the email address.
Note: This is not fool proof because sometimes a spam email WILL look like it came from Paypal.
Look at this seemingly real looking email from Facebook asking me to update my profile.
It SAYS it's from Facebook Technical Support. But is it really?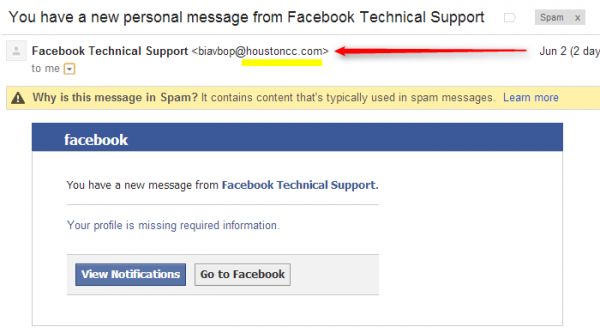 The FROM email is @houstoncc.com. Is that remotely close to something Facebook would send? Of course not.
2 – Hover your mouse over the LINK and see where it leads before clicking.
Look where the link wants to take me if I clicked on the Facebook email link (it's nowhere near Facebook.com!)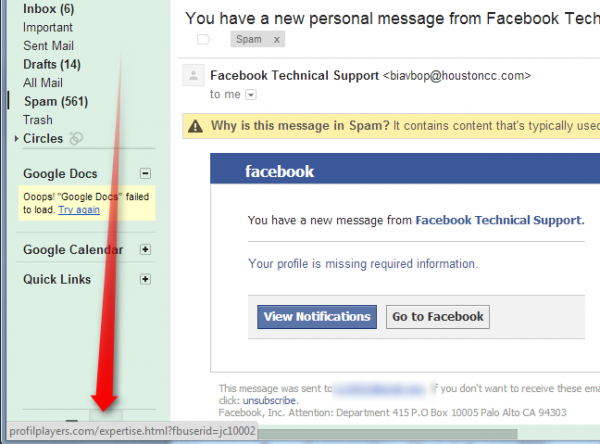 3 – Ask.
Post somewhere online to ask if you are unsure. Better safe than sorry. Another solid strategy is to visit the site in question by typing it into the browser by hand (instead of clicking on the link).
For example, if this was a read request from Facebook, when I logged into my Facebook page, I would see a similar notice there.
Switch To Gmail
I am – and always have been – a huge fan of all Google products.
Including its Gmail service.
If you look back at the image screenshot above, you will see that Gmail already captured the Facebook spoof email and filed it in my Spam folder.
Gmail is incredibly powerful and smart in the way it handles spam. I virtually see NO spam in my inbox. It's quite extraordinary.
In any case, stay safe and protect yourself from the Bad Spam Man!
Over To You
How is your daily life affected by spam email? Do you have it in control? Have you ever fell victim to one? How do you protect yourself against it? Tell us in the comments below.

How much work and responsibility do we professional pet sitters have in a given day?