Do You Remember Your Very First Pet Sitting Client?
Do you remember your very first kiss? Or the first job you ever had?
What about your first car, or the first house you bought?
Our lives are filled with a long series of firsts.
Sadly, as life moves from one day to the next, we give less thought to our firsts of the past, and focus more on the issues we personally face today and tomorrow.
Working in our pet sitting business is no different. In order to survive and grow, we constantly find ourselves looking for the next client to serve.
Long gone is the day we celebrated the success of gaining our first client ever.

Maybe nostalgia is kicking in because Summer is coming to an end, kids are heading back to school, or the hot air is beginning to cool.
Whatever the case, I began thinking back through all the clients I've served in my pet sitting business and remembered Snickers.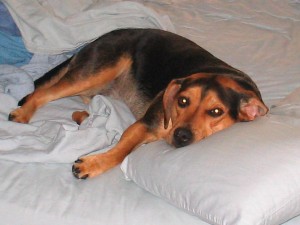 Snickers was our very first pet sitting client.
He was an adorable Beagle, whose family was visiting the great Big Apple for the week and needed a place for Snickers to stay while they spent the days sightseeing, catching a Broadway show and wandering the streets of New York.
I couldn't actually believe this was happening. A strange family from Michigan trusted us after a couple of phone calls to drop off their sweet Snickers for the weekend.
And they were paying us for the opportunity to do so.
Our pet sitting business was officially born. And little Snickers was the start of it all.
Who Was Your Very First?
What can you share here about your very first pet sitting client?
How excited (or nervous?) were you setting up service with your very first pet sitting client? Do you remember the whole situation? How it came to be? What the job was? How long it was for? Do you still follow the same format when bringing on a new client, or have you adjusted your process along the way?
Celebrate and re-live the moment that started it all for you in the comments below.