Did You Know That Asking Your Clients The Most Important Top 3 Questions Will Help You Look Smart?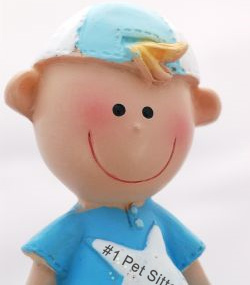 First, a few questions for you:
What sets you apart from other pet sitters? Why should a potential client choose you over all other options available? What are you doing to stand out and become the preferred choice as pet sitter?
If you do not have clear and specific answers to these questions, you may find yourself struggling for new clients.
Start by asking yourself, "What do I do better than anyone else?" Dig deep to discover what makes you, you.

One of the best ways to set you apart from all others is to simply ask clients the right questions. Whether on the phone or in person, knowing the questions to ask will automatically engage the potential client and make you look smart. They will also keep the conversation moving forward while building trust and rapport.
Some pet sitters I know believe that the purpose of a first conversation with a potential client is to give her 'more information.' So, they get on the phone and blab on about themselves and their business.
"I've been doing this for 4 years… I've owned pets my whole life… I'd love to care for Freckles…"
Of course you would. While it helps to reveal elements about yourself, keep those facts on your website. Spend your time with the client asking the right questions and you'll be amazed with the result.
So, really, why should you ask the right questions?
To display your expertise and reveal your credibility. For example, I know that labs are notorious for developing arthritis in their hips and hind legs as they get older. When I am chatting with a client who has a lab, I will make certain to inquire about the health of the dog.
"As you know, Labs can develop arthritis in their legs starting at an early age. How is Duke holding up these days? Are there any serious issues yet that I'll need to keep an eye on?"
The client will be thrilled to learn you know what you're doing and feel more comfortable hiring you.
Get to know the personalities, traits and quirks of as many breeds as possible and use that knowledge to your advantage.
Find common ground, both personal and business-related, between you two. The more you can truly connect, the more likely the client will choose you as their pet sitter.
Learn to ask the Top 3 most engaging questions
Asking the right questions can be the difference between a few new clients and plenty of new clients.
Whenever I am on the phone or meeting with a potential new client, I ask 3 key questions:
1) What's been your experience in the past while dealing with pet sitters?
Most likely, this is not the first time the client is looking for a pet sitter. It's a tremendous help to find out what went wrong in that past situation that lead her to you. For example, she may have relied on friends and family or had a bad experience with another sitter.
This information is gold. If she had a bad experience in the past, dig deeper to find out exactly what went wrong. (Don't worry, clients will be happy to share their past situations with you.) As you listen and empathize with her situation, you'll know exactly what's important to her. And knowing what's important will help you become the best possible pet sitter she could have hoped for.
If a past sitter wasn't very reachable, or left her house a mess, you'll know exactly what to focus on.
2) What do you see as the most important factor when choosing a pet sitter?
Some clients value a pet sitter who is smart, intelligent and educated while others look for transparency and accessibility. No matter the issue, this question allows you to learn exactly what the client holds in top priority.
Does she want to make sure the pet sitter is trained in animal first aid because her Beagle has been known to poke around the trash, or does she just want to count on a text message every day so she can continue to enjoy her vacation?
3) Is there anything else (more) you need to know?
Covering the basics is great. Before you hang up, however, give the client the opportunity to clarify any last thoughts. Most often, you'll be told she has no more questions, and that's a good thing.
You can now proceed with confidence knowing you've touched upon all the specifics, displayed your professional knowledge and expertise, and positioned yourself above and beyond all other pet sitters in the mind of your client.
Way to go…!
If you currently run a pet sitting business, please tell us… what things do you cover in your first conversation with a potential new client?