Remove The Risk, Rake In The Business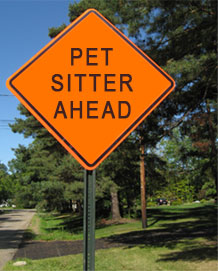 As you know, trust plays a huge part in a client's decision to use one pet sitter over another. If a client does not trust you, nothing else matters. She will not become your new client.
Understanding what is going through a client's mind during the first crucial minutes of your contact together can lead to a growing business by winning more clients.

Let's Go Shopping
As consumers, every decision we make involves a certain level of risk. That's the nature of life. So, the more you can deliberately remove the risk for the potential client to use your service, the better off you'll be.
I was recently in the market for a new flat screen TV. You know, the ones everyone hangs on their wall to watch their favorite reality shows? It was about time I upgraded my 'normal' television that I owned since I was a young child.
Clearly, there are way too many considerations when searching for one of these items. One must consider things like brand, usability, visual quality, functionality, and reputation of brand.
While browsing around, you begin to ask yourself things like:
"Do I trust this brand?"
"Do I trust this store that is selling this TV?"
"Will this brand last many years?"
"If I need support, will the company provide it and make it a pleasant experience?"
"Am I getting the right size for my room?"
"What does this brand say about me?"
"What do other consumers say about this brand?"
"How will my friends react when they see this brand of TV?"
"If I'm not happy with my purchase, what options do I have?"
Unless I can answer at least most of these questions in a positive manner, I will not yet buy a new TV. This is the typical, perhaps subconscious, approach we all go through when making most big decisions in our lives.
The Unknown Factor
I received a flier in the mail recently from an electronics store I never heard of. Lucky for me, they were having a huge flat screen TV sale that weekend. Perfect. The wife and I headed into the car and drove to the discount electronics store. Even though I've never heard of the store, I wanted to see what they had to offer.
From the moment we stepped inside the store, I had a bad feeling. The sales guy was just a little pushy for my taste and only seemed interested in making the sale. Plus, I wasn't convinced the sale items were brand new and not either refurbished or taken from the back of a truck.
I started asking myself the questions above, "Do I trust this store… If I need support… If the TV doesn't work…" and, well, let's just say I didn't buy the TV there.
In any case, the risk of making a large purchase from that store was greater than the benefit I'd receive of owning a new flat screen TV.
A few weeks later, my wife and I were shopping through Wal-Mart for some household items and happen to walk by the electronics section. I couldn't believe my eyes. A 42" reputable brand TV was on sale from over $900 to just $630.
The risk questions, once again, began running through my head.
"Do I trust this brand?" YES.
"Do I trust this store that is selling this TV?" YES.
"Will this brand last many years?" YES.
"If I need support, will the company provide it and make it a pleasant experience?" YES.
"Am I getting the right size for my room?" YES…
The stars were aligned, the risk was removed and the price was right. We made the purchase when our original plan was just to pick up some hangers.
The point of this is to highlight how we consider every purchase we make very carefully. Some purchases are made quite easily, of course, but others take time and force us to go through a detailed process. Including searching around for the best care for our pets when we can't be there for them.
How This Relates To Your Pet Sitting Business
Every single client you are in touch with during the initial sales process is silently asking herself the same set of questions noted above. Your client is asking herself:
"Can I trust this pet sitter?"
"If I need something, will my pet sitter be reachable and available?"
"What do others say about this pet sitter?"
"What will my family think if I hire this pet sitter?"
"What if I'm not happy with the service provided?"
The Bottom Line
There is one underlying question each of your potential pet sitting clients has on their mind?
"Will choosing this pet sitter over all others truly provide me with the level of service I am being promised?"
Work diligently to make the answer to that question a resounding 'YES' and you will stay miles ahead of your competition and continue to run a thriving and successful pet sitting business.
Remove the risk for your clients and position yourself as the best possible option with everything you do. Make your website the best it can be. Make your business cards look the best they can be. Study your industry, continue learning and grow yourself into the best business owner/entrepreneur you can be.