Everything You Need To Offer Gift Certificates On Your Pet Sitting Website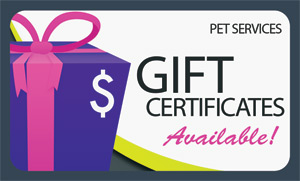 Have you ever thought about offering your pet sitting website visitors the opportunity to purchase a Gift Certificate for your services?
It might be a good idea since, according to Consumer Reports, gift cards rank as the second-most given gift by consumers in the United States (and they are the most-wanted gift by women, and the third-most wanted gift by males).
The most challenging thing when it comes to offering your users gift certificates (or Gift Cards if you want to get fancy about it) is just figuring out how to put all the pieces in place.
The concept is surely not the issue. Offering gift certificates is nothing more than simply taking payment upfront for a predetermined number of services or a predetermined dollar amount.
This article contains all the graphics and documents you'll need to begin offering gift certificates. You may download the files below and use them as you wish.
Why Would You Want To Offer Gift Certificates, Anyway?
As a small business owner, one of the biggest challenges you can face is cash flow. Cash flow refers to the amount of available cash you have access to at any given time. The more cash flow your business has, the more effective you can be.
Offering gift certificates allows you to receive a block of cash up front from your buyer before the service is expected to be performed (or cashed in on).
Some very interesting statistics on gift certificates (and gift cards) suggest that 61% of gift card holders spend more than the gifted amount and the average recipient spends 20 percent more than their card's initial value. [Source: http://www.card9.com/giftcard-statistics.asp]
With that sort of business loyalty and win-win situation for both you and the purchaser, let's get you set up so you can easily begin offering your pet community the opportunity to purchase a gift certificate for themselves or as the perfect gift for a loved one.
The Step-by-Step Process to Offering Your Pet Sitting Clients Gift Certificates
1 – Website graphic. You'll want an attractive looking graphic to draw attention to your gift certificate availability. One is provided for you below. Feel free to place this image on your website page, in a noticeable spot, like your sidebar, for example. You may also choose to create a menu bar link pointing to its own page with the graphic and full content announcing your new offer.
2 – Website content (announcement). Along with your gift certificate graphic, your announcement can be something as simple as "Gift Certificates Available!" or something with a tag line, such as "Makes the perfect gift for your loved ones with pets! Call us today to get started!" Or, create a separate page spelling out all the wonderful details of your offer.
While it's probably easier to direct your visitors to call you to get the ball rolling, you could choose to have them fill out a brief form with the details first. If you wanted to get real fancy, connect that to a Paypal checkout button so they can finalize payment right there.
3 – Taking payment. In my experience, most of these transactions begin over the phone. Remember that the purpose of a Gift Certificate is to get money up front from the purchaser. I'm a fan of Paypal. Once you have the full details from your buyer, you could easily ask for their email address then generate an invoice through Paypal that will send the person an email with a direct link to pay you the required amount. Plain and simple.
You could wait and get the payment in person, too (if it's a current client) but that may have you chasing money around. Either way, do what's easiest for you.
When someone wants to purchase a gift certificate from you, the main information you'll need is their full name, contact information such as a phone number and email address, and the value they wish to purchase.
Once you sell a gift certificate, the next logical step is that someone will call to redeem it. Whether the person redeeming the certificate is the original purchaser or someone she gave it to as a gift, you'll simply need to know which certificate is being redeemed. And that leads us to…
4 – Tracking current Gift Certificate use. Once you sell your first gift certificate you'll now need a system to track who purchased it and the balance that is remaining. A simple excel spread sheet is all you need (see sample download below).
When you sell a gift certificate, you will want to generate some sort of unique code to identify the card. Sometimes the person purchasing the card will give it to someone else as a gift and you want to be able to accurately track the card's use and assure that the person redeeming it is authorized to do so.
So, create a unique code for each certificate (much like a security PIN). This could be as simple as a four digit code, such as 5729, or something more involved like BC4LM9.
All you are doing is generating a reference number to each specific gift certificate so that when the person calls in to redeem their card, you would ask them for this ID so you can properly validate it.
Since they are prepaid, you would look at their current balance on the sheet, set them up with their needed service, and adjust the balance accordingly. If they have a balance remaining, great, let them know this. If they require additional funds for their newly requested service, make payment arrangements as you normally would.
It's really just that simple. Once you get your systems up and running, you'll see that offering your pet community gift certificates is an amazing way to keep your cash flow flowing and your clients happy.
Download The Complete Gift Certificate Pet Sitter Kit
Download all the resources you need to get started, and please do share this with your pet sitter network so they can enjoy it, too!

Click to Download the Gift-Certificates.zip File
(size is 5.14 MB)
(Here are instructions on how to open a .zip file)