4 More Ways To Drive New Clients To Your Pet Sitting Business
Thanks to Bonnie Harris, founder of Wax Marketing, Inc., for this guest post!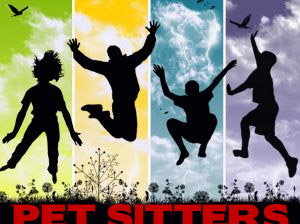 I'm a publicist who's had the same pet sitter – and I'm not kidding you – for 18 years. My pet sitter has been 'second mom' to two generations of dogs in my household so I know how much of an impact your job can make on both the dog and the human's quality of life!
Since pet sitting is a business that requires a strong level of trust, I don't believe you'll win tons of business merely from a good website presence or by leaving your business cards at the vet.

Most pet owners won't leave their furry family members with someone unless they come highly recommended but at the same time, you need to raise name recognition overall in your community.
For that reason, if you can drive new business via word-of-mouth, you'll be way ahead of the competition. The key will be to have a strategy that gets your name out there en masse, but takes advantage of your existing reputation at the same time.
The 4 Marketing Do's To Do
I've come up with a few marketing "do's" that are inexpensive and fun. Remember, it takes work to market your business and you can't be shy about it. An online presence will help but you need to get out there and promote if you really want to build a strong business.
1. Get your name on EVERYTHING. You can be your own walking billboard every day. Make t-shirts with your website address and wear them whenever you're working or at anyplace that has pets (like the dogpark!)
Zazzle is a great website for this and it's cheap! Also, you can make a magnet for your car with your logo for about $30 at Kinkos.
2. Get involved with a local non-profit. Maybe your local humane society needs committee members, or possibly a rescue organization needs help evaluating or moving dogs.
The pet community is very tight – if you become someone that genuinely wants to help, your name will get around. Imagine if you had the head of the local humane society as a reference!
3. My pet sitter often brings me samples of new products. Brands LOVE to distribute samples and it can really help your business. Find out if there is an organic dog food company based in your city – call them and offer to distribute samples to your clients in exchange for a link on their site.
You can even search through sites like Etsy to find local artisans who make pet products. You can help promote each other!
4. Remember that social media like Facebook and Twitter are great resources, but they really serve to support marketing tactics, they shouldn't be your only marketing tool.
Think about how great it would be to post a picture of you working at the latest dog rescue event on your Facebook page or introduce a cool new doggy product. The synergy between your online and 'street' promotion can really accelerate your business.
Finally, don't forget to ASK FOR REFERRALS. Tell your clients you'd really appreciate any great pet owners they can send your way and leave extra business cards so they can pass them around.
My pet sitter has tons of clients on my block – they just asked me who I used! Tell your friends and acquaintances you'd like referrals or ideas for new clients. People love to help promote new businesses. You just have to ask!
If you'd like to find more ways to promote your business creatively, there are several great sites to help generate ideas. Here's a quick list:
Bonnie Harris is the founder of Wax Marketing, Inc. She has over 20 years experience promoting businesses and products of all kinds. Read her blog or follow her on Twitter for more ideas, or email her at waxmarketing@gmail.com