Imagine Being The Talk Of The Town
With This Fun (and Valuable) Wheel Spin Game!
Fully customize every single element of this game to suit your business style and brand…
Everything from the colors and prizes to the wording and layout!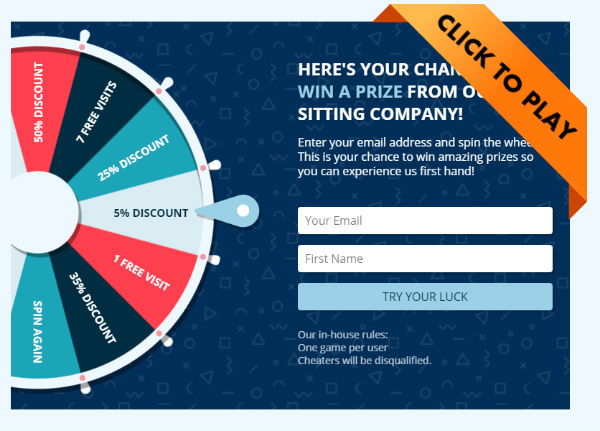 Capture Emails For Follow Up
Connect directly to your MailChimp account (or other email marketing software) so you can follow up with your Wheel Spin users throughout the year.
12 Wheel Prizes 100% Editable
Hand out discounts, free visits, or other products or services you can think of. It's completely up to you what you want to offer as prize options!
Various Display Options for Wheel
Choose how you'd like the wheel to appear on the page. Allow users to click a button to start or have it automatically appear after a set amount of time.
Full Control Over Winning Outcomes
You have total and full control over how often every win option appears for the user.  You can set how likely each Wheel 'slice' will be the winning prize!
Statistics in Plain View
Stats are viewed in an easy-to-read  area inside your website dashboard. Quickly see how many people saw your Wheel and how many played!
Send Prizes Automatically to Email
Fully customize an email that will automatically send to the player with a message, additional information about your service, and instructions to redeem their prize!
Predefined Color Themes or Choose Your Own Colors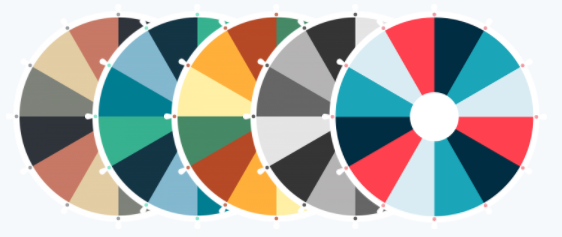 Order Today and You'll:
Work directly with Josh Cary to customize every aspect of the Wheel Spin Game to suit YOUR business style and brand
Receive full installation, customization, and support from Josh Cary and his team
Frequently Asked Questions (FAQs)
What is required for the Game to work on my website?
The only requirement is that your website must be WordPress-powered. This offer is open to both those using our PSO Website service and non-members (as long as your website is WordPress you are good to go)!
What if I don't have MailChimp or an Email software?
Now might be the perfect time to get started with an email tool like MailChimp if you do not yet have one.  Amazingly, MailChimp is 100% free for capturing up to 2000 email addresses!
This Wheel Spin Game will automatically integrate with your MailChimp account so whenever a user plays, their submitted email address will automatically add to your email list inside MailChimp.
That way, you can follow up with them throughout the year (let them know about upcoming specials, holidays, blog posts, videos, newsletters…).
Once you order the Wheel Spin Game, we will assist with connecting your MailChimp account.
How do I make sure no one cheats?
The Wheel Spin Game has a built in cheating mechanism that prevents people from submitting fake email addresses.
You can also set how many times each person can spin the wheel. Best practice might be to allow each person only one spin.
Can I ask for more than the person's Name and Email?
Yes you can! You can gather any information you want before they are allowed to spin the wheel.  Do keep in mind that the more info you request, the less likely someone will spin.
A person's name and email address is the recommended information to collect.  You can then always follow up with them at your convenience.
How long does it take to set up once I order?
Once you order, you will receive a short questionnaire to fill out so we can begin the process together.  These questions will walk you through the type of prizes you want to offer and any other custom aspects of the Game.
You can also schedule a phone consultation directly with Josh Cary to get everything squared away.
From when we have your specific details, your Wheel Spin Game will be ready on your website within 7 business days!
One-time payment of $299 via PayPal or Credit Card