Get Found Online & Land Higher in Google
Here's the Perfect SEO Website for Your Pet Business!
See What Your Friends and Colleagues Are Saying About Us!

Ready For A Website That Brings You New Clients?
Can Your Current Website Use A Boost?
Customize Completely

Make the layout, look, feel and design your very own.  100% changeable with dozens of guided tutorials.

Superior Support

Receive near-instant support via email, trouble ticket, phone, Facebook Group, or TEXT message!

Make Magic

Your new and effective website will allow you to focus on the parts of your business and life that you enjoy most.
We create, manage, and lovingly support professional pet business websites that are beautiful, mobile-friendly, and rank well in Google.
The website you receive will appear high on the first page of search results when a potential client is looking for the service you provide because they are clean, perfectly crafted, and SEO focused. Your website is also specifically designed and optimized to get your phone ringing by enticing more of your website visitors to actually pick up the phone and make contact with you.
These Training Videos Show How Easy & Powerful Our Platform Is!
In this 17-minute walk-through video, you will get a complete inside look at the foundation of our pet website platform.  You will see just how easy and powerful the web builder is to use.
This 7-minute video will take you inside the dashboard of your new website and show you the first steps you should take to begin building and customizing your new SEO-powered website!
Try it for a full 60 days with our 'Love It or Leave It' no risk, nothing to lose, guarantee!
SEO-optimized so you can be perfectly positioned as the go-to sitter.
Neat, clean and uncluttered pages so more of your visitors will make contact.
Proven layout and design so you can focus on the parts of your business that you enjoy.
Make It Look Your Very Own!
If you can dream it, you can make it!  Think of your brand new website with us as a starting point.  While it works perfectly well on Day 1 right out of the box, you can customize it in any way you wish.  Change the colors, change the placement, change any element you like.  As pet sitter Yolanda Nix puts it, "a PetSittingOlogy website can be utilized in any way you dream possible."  We couldn't have said it better ourselves.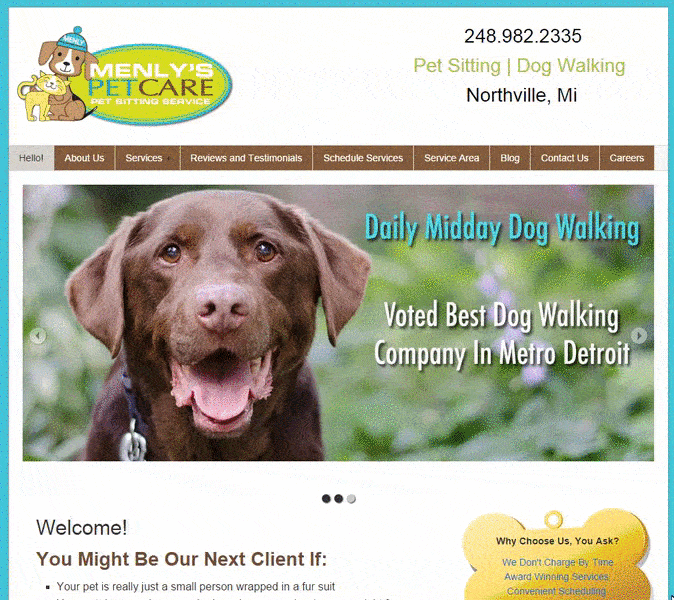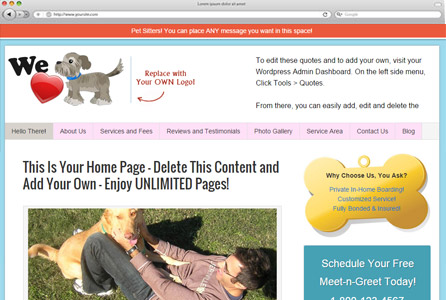 SEO That Makes Google Smile!
Whether you want to show up higher in Google for your chosen keywords, or you want to maintain your current high placement, you've come to the right place.  Our focus on search engine optimization and the ability for your new website to outshine the others is exactly what has gotten us this far.  You can rest easy knowing we will always care for and watch over your pages to assure Google remains happy with it.
ZERO Tech Skill Required!
Do as much - or as little - tinkering on your website as you like.  If you can open up and create a simple Word document, you can easily edit and control your entire website. The WordPress platform is so user-friendly that you'll be amazed with its power.  Quickly upload your own logo, add your own images, and enjoy the results of controlling your own website! Plus, with access to dozens of our step-by-step tutorials right inside your Dashboard, you'll never be lost again.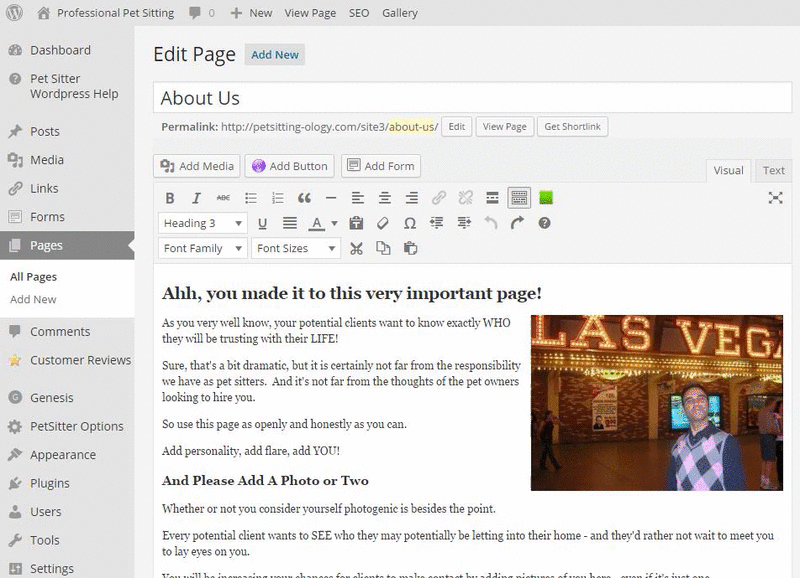 You Are in Good Company!
Nicole Ryan,

Pineapple Pets

Landed a new client who called SPECIFICALLY because of our site. She flat-out told me she only wanted us as our website 'is the best in this area.'
Sarah Johnson,

Menly's Pet Care

Hi Joshua, I just wanted to let you know that I gained a new client who just couldn't say enough about my website! This website is definitely worth the money! Thanks so much for doing something like this, you've really saved me from the website frustration I used to have!
---
Learn Everything Needed To Build, Create and Maintain An Effective Pet Business Website
Questions?  We've Got The Answers To Some Of Our Most Asked!
How much is the pet sitter website and what does it include?

The total investment is just $30 per month with an affordable low one-time set up fee, all designed to fit your budget. You receive a complete, fully functioning WordPress-powered website with unlimited pages, SEO-ready, hosting included, in-house tech support, ongoing education, and plenty more!

Is there a contract with your site? Can I cancel at any time?

There are absolutely no contracts to sign with us. You simply pay month-to-month and you can cancel anytime you wish and owe nothing further.

Can I keep my current business email address with my new website?

Yes, indeed. If you already have an email address associated with your current website (example: cindy@your_website.com), you can continue to use it with your new website. On the same note, if you'd like to begin using your business email address with your new site, we will help you set that up, too.

Do I get unlimited email addresses with my new website?

Yes, this is one of the simplest things to achieve. When you are ready to start using your new business email address, you just log into your control panel, click Add New Email Address and you'll be ready go in seconds.  You can create as many as you would like (for example, info@… mary@… careers@…)

If I already have a website, can I use the same domain name (web address) or do I need a new one?

You will continue to use the exact same domain name and web address that you currently have. (You will not need to purchase a new domain name!) Your current website will not be affected at all by this process. Once you are ready to go live with your new WordPress-powered website, we will walk you through the one change you need to make to your domain name.

Will my website be automatically backed up somewhere?

Yes, your entire WordPress website is automatically backed up every single night. Should anything happen to your site or our servers, we can quickly recover all the needed files for you.  We also like to say that you can never truly 'break' your site.  One click, and you'll be back exactly where you left off.
Always At Your Service!  Call or Text Joshua Anytime: (646) 807-8718
You Get So Much More Than A Website That Works, Looks Great, and Brings You New Clients...
You Get Direct Access to Joshua Cary and the entire PetSittingOlogy Community.
"I could never have been as far along as I am now without you because my PetSittingOlogy Website is absolutely fabulous and allows me to rank far above my local competition.  Several new prospects have told me they checked out other pet sitters online, but they chose to contact me because of my website. I truly cannot even express how grateful I am to have your leadership, support and guidance every step of my journey toward pet sitting success!"

- Carol Preuett,

Whisker Sitters
Full 60-Day Test Drive
We've been offering and perfecting this pet business website system since 2011.  And we are proud because it works.  If it did not work, the pet professionals who continue to use and rely on our service and support would look elsewhere.
With that, I'd like to personally extend a 60-day 'try it' period for you.
If it any point during your first 60 days with us you are just not happy, for whatever reason, you will receive 100% of your money back.  Period.  Easy.  Done.
Test out the results with us and I am certain you'll be thrilled, too.
—Joshua Cary
1

Sign Up Today and Your Website is Delivered as Early as TOMORROW!

Coming on board with us takes less than 5 minutes. Get ready for a whole new experience with your pet business website. You are in good hands with someone who knows, lives and breathes our industry.

2

Add Your Content and Make it Your Own!

Take as much or as little time as you wish to get your brand new website exactly how you want it to look. Customize any part, or every part! Would rather have us do the customizing for you? We can do that, too.

3

Launch Your New Website and Let's Celebrate!

Whether you complete this process in a week, or you like to take your time to get just right, launching your new website with us is a cause for celebration. We assist every step of the way to assure a smooth transition.

4

Enjoy Life in a 'No Overwhelm' Zone!

Like you, we prefer little-to-no-overwhelm. That's why we created this system for you. Whether you like to do much of the website tinkering yourself, or would rather we tinker for you, our support crew remains close by to assist any way you wish.