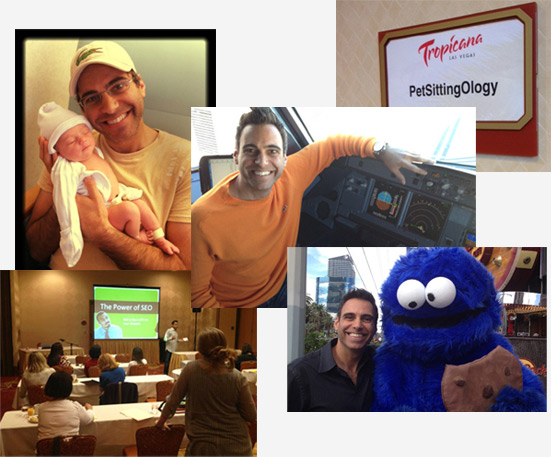 First, Why PetSittingOlogy Will Help You Grow Your Pet Sitting Business and Gain More Clients.
(and then "Who exactly is Joshua Cary?")
If you want to use your pet sitting website the best way possible to bring you more business, you're in the right place.
If you want to learn what makes your visitors excited to contact you, you're also in the right place.
Here's the thing…
Once a potential client (visitor) lands on your site, you have literally 3-5 seconds to capture their attention before they head back to Google and look elsewhere.
If you know what really helps get your site to the top of Google…
If you know what leads your visitor to click though to your site…
AND what elements you need on your website to build trust and credibility…
…Only then will you have a greater chance of growing your pet sitting business much easier.
(Secret: Simply understanding search engine optimization (SEO) and how to land in Google is only a part of the equation.)
While SEO is certainly a big part of gaining more clients, if your website isn't effective, what good will landing in Google do in the first place?
Let's focus on every piece of the puzzle, one step at a time.
With my 13+ years of building websites and learning SEO techniques and design strategies, I was able to bring my own pet sitting business to hit six figures during the first 12 months.
On this blog, I share with you everything I have done for my pet sitting business and countless of other pet sitters!
Sound Like A Plan?
Begin by gaining

Free Access Now

to

my personal
marketing collection

!
Plus, you'll get my updates so you never miss a thing! (Absolutely No Spam Guaranteed)

Learn More About Joshua Cary
The Teaching Sells Case Study
The thing that started it all! The team behind Copyblogger uses the PetSittingOlogy success story as a case study for their audience. Listen in to get an inside view of how it all began, what lead to the success, and what's in store down the road.
Career Adventures Interview
In this Passion Profile conducted by Career Adventures, Joshua discusses his path to becoming an entrepreneur.
Interview on MO.com
Read the interview conducted by MO.com on how I got started in the pet business, what lead me to create PetSittingOlogy and some tips on succeeding in the industry.
Click to read » Joshua Cary interviewed by MO.com
As listed on the MO.com site: "MO.com interviews entrepreneurs from all walks, across all industries, and from around the world. We focus on their habits and methods; what makes them tick. The primary focus of MO.com is entrepreneurship."
What About This Blog?
"You really have a Great site! Anyone who asks me about how to start a Pet Sitting business I've sent them to your site. It's probably the best I've seen. Congrats :]" –Beverly Duarte
Thanks so much!! You're very helpful and I recommend you to other pro. pet sitter friends, you're awesome!! Thanks for sharing useful information. -Angela Carlson
Joshua, I love your site and have gotten a lot out of it. -Jody Rusell
Becoming a good pet sitter is one thing. Becoming an exceptional pet sitting business owner is an entirely different thing! That's where we come in…
Our blog is a free resource and tool for pet sitting business owners to gain that competitive edge and win more clients. The secret to a more profitable business is to practice advanced business skills, effective marketing techniques and superb client care.
Our articles are written specifically for you, the pet sitting business owner, and aim to help you create a better life for yourself by sharing insights from the worlds of small business, Internet marketing and web design.
Looking to get your pet sitting website to rank better in the search results? No problem.
Need to know the best way to speak to your potential clients on the phone? We got you covered.
Want to keep your current pet sitting clients happy and coming back to you again and again? That's what we do.
Sound Like A Plan?
Begin by gaining

Free Access Now

to

my personal
marketing collection

!
Plus, you'll get my updates so you never miss a thing! (Absolutely No Spam Guaranteed)

With plenty of info to keep you busy for hours, our blog hands you the articles, videos, and ebooks that work today. Stay on top of the current trends of the industry and watch your pet sitting business succeed like never before.
Welcome to PetSittingOlogy.
Our Belief:
Our core belief is that anyone can create a better life for themselves if given the right tools, motivation and environment.
PetSittingOlogy is that place.
Surrounding yourself with the right people, while receiving the proper guidance at the right time in your life will lead to success.
We See Things A Little Bit Differently…
We believe in a new way of training people to become pet sitting business owners and take control of their lives: a way that focuses on tried and true strategies from the worlds of small business, internet marketing and website development.
Come along for the ride and discover what increased confidence, more spare time and additional 'money in the bank' feels like!

-Joshua Cary
Creator, PetSittingOlogy
Sound Like A Plan?
Begin by gaining

Free Access Now

to

my personal
marketing collection

!
Plus, you'll get my updates so you never miss a thing! (Absolutely No Spam Guaranteed)